Out of town for the week? And looking for places to give the ol' quads a good stretch?
Searching for the best trails surrounding the Ellijay area, our quads have come back with answers for the familiar and new voyagers of the area.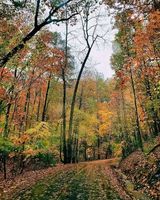 One of the more popular trails in this area, the nearly 7-mile looper that is Bear Creek Trail. For any of the newcomers who haven't heard much of this trail yet, let's start off with the fact this trail leads to the second tallest living tree in Georgia. Many states stop measuring after the first tallest. You may have heard about people hiking to see the Gennett Poplar tree in Gilmer County and wondered, why the fuss over a tree? It has a circumference of 18 ft. at the base and boasts as a wicked photo op. It was named after the real-life Gennett family who owned a local lumber mill and spared this one singular tree.
The trail's vast diverse life of vegetated harmony collides perfectly with the ruggedness of years old busted up earth and is calmed by the creek that splashed through silently. This makes it a trail equally enjoyable for the avid cyclist, the record-breaking runner, and the modern voyager.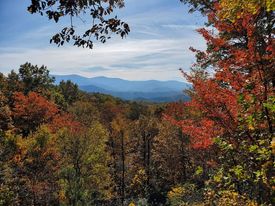 If you are looking for something more relaxed, a view that is low risk but high reward, travel no further than the Cohutta Overlook. There's beauty in every angle of this 360-degree view. Bring your best fall outfit for the immense color blast that is autumn forest, definitely makes for beautiful photos.
Built in the 1960s by the Forest Service, the brief 5 minute uphill hike leads to an overview look of the Chattahoochee National Forest and nothing more due to the fact that the Chattahoochee National Forest spans 75,000 acres. There is also a hut on the side of the trail that measures the air quality all day. And with foot traffic to a minimum during the day, perfect enough for a quick fresh air breather.
200 Google reviews, averaging to a 4.7 rating; one reviewer left a simple note "Our 14 year old daughter was surprised at this view." If that does not merit guaranteed quality time, hard to imagine what will. Get your sunset views in!
And last, the behemoth itself, the Appalachian Trail! As the Appalachian Mountain traverses through 14 states in the US, 76 miles currently run through Georgia alone. We are in the midst of the best time to hike right now as the temperature simmers down and provides those refreshing pockets of air, rejuvenating burnt-out legs. Due to the nature of this kind of trip, it is
highly recommended that any person willing to hike this trail should be prepared. The USDA website contains important notices to ensure everyone's safety. Phrases such as "bear resistant canisters" and "deer season" might give you hesitation stepping foot on the trail but there are enough resources and Facebook groups with tips on how to stay safe.
For the sake of safety including in here the Hunting Season Schedule
But if you are looking to see something worth stopping for, we recommend starting from one of the more southern points, Amicalola Falls. Amicalola Falls is Georgia's tallest waterfall ranging a little over 700 feet of just water trickling down staggered rocks. The natural crashing sound is enough to calm any nerves and help anyone be one with peace.
Well into this peaceful trail the time will fly by, and if you become weary of your travels you may begin to look for a possible campsite. This trail goes beyond that and has a hotel onsite. The Hike Inn located in the Dawsonville side of Georgia has guests hiking from every part of Georgia to come and live a semi off-grid lodging. And in the thematics of nature and bonding,
the hotel is sustainably designed, LEED-certified (Leadership in Energy and Environmental Design), and food is served twice a day (breakfast and dinner) over a long family style table for all the guests to share. It's enough to put our electronics down and be a family with everyone. And if you are inspired by its super eco-friendly lifestyle, the Hike Inn offers tours of their facility so you can learn and apply some of their energy alternatives at home. The ultimate experience in living friendlier.
So whether you are looking for a nice quick view, stretching out those quads to see the second largest tree in Georgia, or want to take on the Appalachian, when you're in Ellijay you can do it all.