Event venues
in downtown ellijay
With never-ending mountain views and lush greenery at every turn, it's no secret that North Georgia is a hot spot for weddings and events. Whether you are looking to capture beautiful moments in your life with a simple and rustic ambiance or something more upscale, you are sure to find the perfect place for your event in Ellijay.
 Venues:
DEEP SOUTH FARM
877 Mulkey Road
Ellijay Georgia 30536
(706) 635-8865
Website

Deep South Farm sits on over 30 acres of mountain land and is easily one of North Georgia's most popular wedding venues. At just over an hour North of Atlanta, the location is captivatingly beautiful and convenient! Complete with a 3500 square foot open-air barn, 3.5-acre lake and beautiful oak trees, this venue really does have it all.
Available April through November.
---
Ott Farms and Vineyard
230 Henry Evans Road
Ellijay Georgia 30536
706-273-1891
Website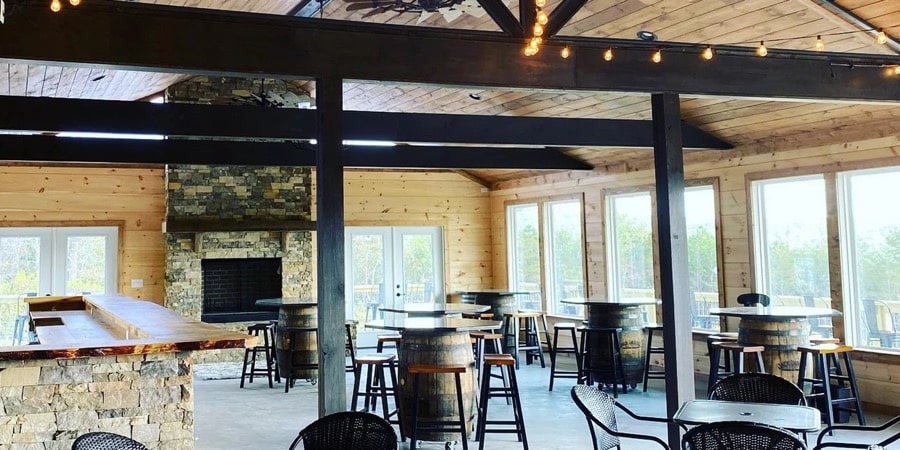 When Michael was 15 years old and got his first cow, he knew then he wanted to be a farmer. At the age of 17, he became the youngest entrepreneur in the fern (cut foliage) industry when he opened his own Fernery in Deland, Florida. Starting with 3 acres he quickly grew to 31 acres of cut foliage.
After 32 years and some life altering events Mike decided to make a change and take a ride about the country and see what the rest of the world was up to. He was soon approached by several individuals looking to get into the vineyard business. However they needed the help of a good ole Florida boy with Horticulture and farming knowledge. His skills quickly became highly sought after. He soon built Cartecay Vineyards, Engelheim Vineyards, Ellijay River Vineyard and consulted with Chateau Meichtry after injuring his shoulder helping others realize their dreams. He soon came to North Georgia Physical Therapy where Lee was working after having been injured in a car accident herself. She found helping others recover from injury very fulfilling. Mike fell for Lee instantly, however it took Lee a little longer to admit that she was smitten as well. After 5 months of physical therapy Mike finally asked Lee on a date and as they say that was that. Mike's dream of owning and operating his own vineyard quickly became Lee's passion as well.
​
Together they have built their vineyard from the ground up, clearing the land, planting plants, setting posts, running wire, hanging trellis systems, pruning, training, harvesting and finally making their own wines with the help Engelheim Vineyards and Chateau Meichtry that he stills helps with to this day. They have finally realized their dream with the opening of their Tasting Room and the production of wines from their own grapes.
---
SUMMIT FARM WEDDINGS
221 SUMMIT DRIVE
Ellijay Georgia 30536
(706) 889-7948
Website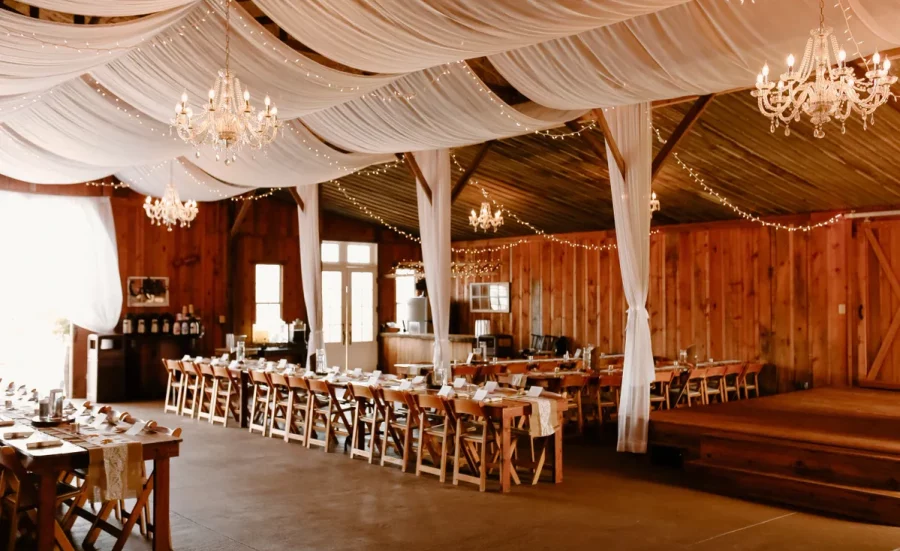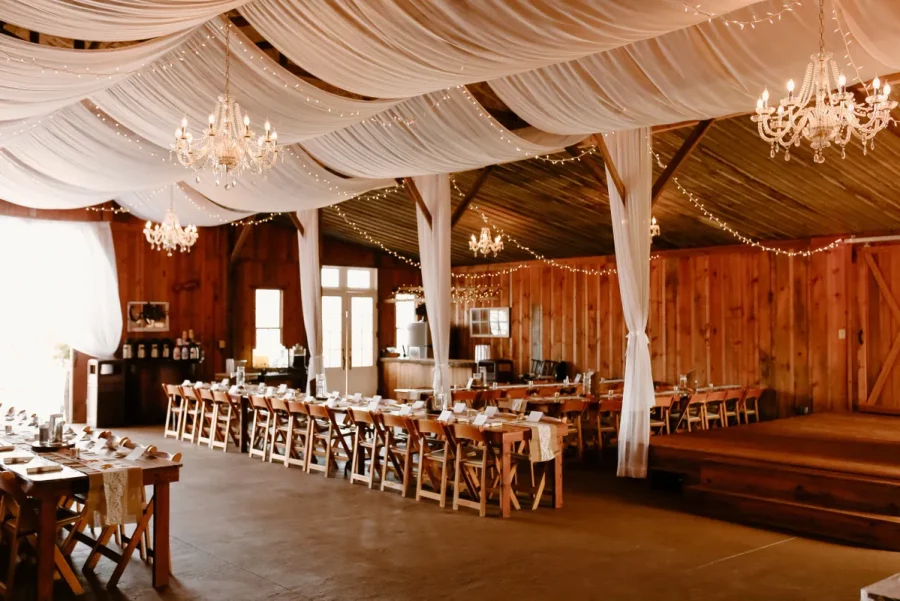 Summit Farm Weddings is perfect for the couple looking for a farm-style wedding at an affordable price. The venue is family owned and offers church pews overlooking the scenic mountains as well as a large barn for the reception hall or indoor wedding venue. With a stage, dance floor, and rustic style, it's ideal for a variety of options rain or shine!
Available all year-round.
---
THE ORCHARD BARN
3379 Tailscreek Road
Ellijay Georgia 30540
706-889-3668
Website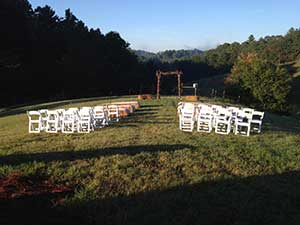 This rustic venue is a part of The Red Apple Barn and with its beautiful valley and hillsides, it makes the perfect backdrop for any social function. From weddings to family reunions, the 100-acre farm is truly a blank canvas and the perfect place to gather with loved ones.
Available April through November.
---
For more wedding and event venues, head on over to the VINEYARD section of our website.