Contributor: Christina A. Williams
Can you just imagine the feeling of freedom that comes from riding a motorcycle down a long winding road through north Georgia toward the Blue Ridge Mountains? This time of year is perfect, as the warm summer transitions to crisp fall weather. You can just feel the cool breeze while watching the leaves on towering trees turn from bright greens and wilt to crunching shades of red and yellow and then fall to the ground as the bike zooms by.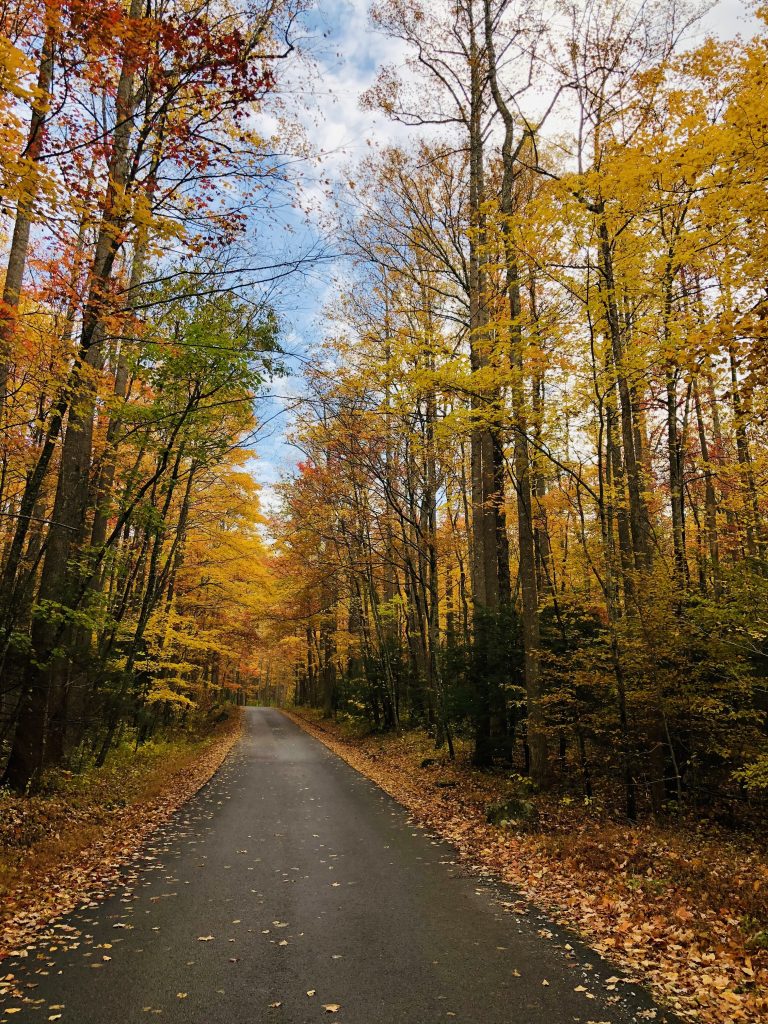 As pumpkin spice season nears, the idea of throwing on a few layers of clothes under a smooth leather jacket to ride down the Appalachian Highway Corridor A is more and more appealing. For a highway system that sees about 10,000 vehicles per day, the further north the ride takes you, the more peaceful it gets. Congestion dissipates and every few miles, a slow-moving pick-up truck is on the right to pass. On the last day of August, the trees still stand tall and green, but are expected to turn to shades of red and gold by October 24th.
Along the northern route, shortly past JCT 382, the alternate route to Ellijay, there are a few local delights like apple orchards, and if you need something more familiar to metro Atlanta, there are fast food chains along the route. The view of fall foliage from the road is pretty bland, but the exits to towns sitting on the northern route to Jasper, Ellijay and Blue Ridge, Georgia.
If you decide to pause your ride in Jasper, there are a lot of tourist attractions to explore. A full list can be found at the Pickens County Visitors Center where the friendly and helpful staff provides brochures and maps and information for anyone who is passing through. A few suggestions include a tour of a historical jailhouse, a community theater, horseback riding and brewing company tasting rooms that you can visit if you decide to spend the night in town.
If you're an art buff, it's highly suggested that you pass Jasper right on by. Travel a little further up Highway 515 for a little under 30 minutes, and you'll arrive in
Ellijay, where the art scene is thriving. There are lots of options for shopping and dining, whether you stop for a few hours on your way to Blue Ridge or decide to get comfortable at one of the 20 comfy lodging locations in the small town. The residents of the city know all too well that Ellijay is a hidden gem tucked away into the North Georgia Mountains. The name itself adds some appeal to motorists who are looking to conquer "new ground," which is what Ellijay means in the Cherokee Native American language.
Eighteen more miles up Highway 515, Blue Ridge, GA is the last stop before the Tennessee and North Carolina state lines. As one of Southern Living Magazine's 2020 South's Best Mountain Towns, Blue Ridge welcomes tourism with fresh air and historic attractions set on a mountain range that's also surrounded by what's known as Lake Country in the local area. A love of riding could extend to electric bike rentals and tours of mountain trails while visiting the area. Small diners offer great eats that more than likely include the daily catch since fishing is also a go-to outdoor activity that the residents and tourists alike enjoy in Blue Ridge.
No matter what your recreational interests are, whether you stay on your bike and ride the almost 104 miles from metro Atlanta, through Jasper, Ellijay and Blue Ridge to McCaysville, GA, which sits right on the Tennessee state line or stop at every town to pick apples and explore the forest covered mountain peaks, riding north on Highway 515 offers what is guaranteed to keep you feeling young, wild and free.
Ellijay, Georgia, Makes a Perfect Road Trip From Sarasota
Motorcycle Roads in Georgia – Routes
Georgiamountainparkway.com
Trashin' Down Georgia Highway 515
https://www.tripadvisor.com/Attractions-g35031-Activities-Jasper_Georgia.html
https://www.exploregeorgia.org/things-to-do
https://downtownellijay.com/art-in-ellijay/
https://www.exploregeorgia.org/city/blue-ridge