Ellijay has what some still consider a well kept secret very near Historic Downtown.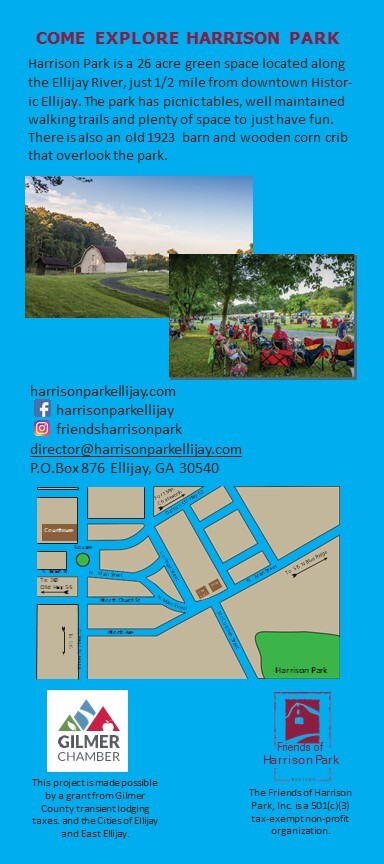 A short walk past the Ellijay Coffee House heading away from downtown and you will come upon Ellijay Elementary on McCutcheon Street. A stroll past there, the First Methodist Church, the Scout Hut and a short bridge…..then be on the lookout on your left to be wowed!
Now, we may not have New York's Central Park but we have our own Ellijay version in Harrison Park…just a few acres smaller!
You will see a few joggers, walkers and some dogs leashed and well mannered but mostly you will see a lovely green space.
In this crazy world, our park is the perfect retreat…if you just want to sit and soak it all in there are strategically placed benches for some meditation or reading.
The most striking piece for me is the vintage gambrel roof barn that takes you back in time and is visually stunning! It's the anchor of the green space.
Harrison Park is the love child of local citizens that saw a need to persevere this special place. They are devoted to not only making it grow for the community but care deeply. "They"are the Friends of Harrison Park and none of this would be possible without volunteers and the vision of the leaders, Linda and Mike Lancaster and team! This dynamic duo spearheaded the campaign to renew and restore.
In just a few years the park has grown by leaps and bounds under their brilliant direction and vision.
The plans to continue the renovation are ever ongoing . The amazing part is this is accomplished by applying for grants and access to worker bees…volunteers in our community.A whole lot of work, time and blood, sweat and tears go into restoring such a vital area
This year Harrison Park is proud to announce the construction of permanent bathrooms…Hooray!…this is just one step along the way to build an even greater area for Ellijay and visitors to our community.
This past summer Friends of Harrison Park hosted a dinner "Dining with Fireflies" which was so successful we are hoping to see it every year. Also a perfect way to discover the local restaurants and wineries that participated. It was delicious Fall is a very special time for our little town and there are many events to celebrate Apple Season….several ongoing through Halloween.
Please check out their website and Facebook page and consider a membership to Friends of Harrison Park..it feels so good to give back and these Friends are shining examples of just that! Hope to see you on the trail!