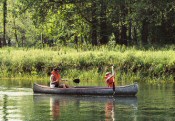 Register for the Father and Son Breakaway Retreat happening on April 15-17, 2011 at Camp Highland in Ellijay, Georgia. This weekend will give you a chance to spend some quality time together as you have the adventure of a lifetime! The retreat has some structured time scheduled with adventure races and discussion sessions and some unstructured time where you will have the opportunity to enjoy all the benefits of the camp including zip lines, rock walls, rope courses, nature trails, and Carters Lake. Father and son will camp together in cabins with twin beds and will have the use of the bathhouse. It is encouraged to bring only one child at a time but there is an option to bring a second child.
Registration is $275 for the pair. $75 extra for an additional child. You can register online at camphighland.com or call 678-393-0300. If you can't make this retreat, there are others scheduled for August 5-7, 2011 and November 4-6, 2011.
Camp Highland made its debut in 1999 with the cooperation of Northpoint Community Church and has day camps, summer camps, and other group events. Counselors are trained to teach biblical principles through age appropriate activities. Their goal is to treat guests to the thrill of a lifetime while exposing them to moments that lead to a deeper walk with Christ.
Camp Highland is located at:
1250 Camp Highland Rd.
Ellijay, GA