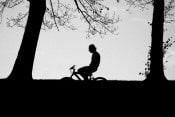 Get ready to ride! Cartecay Bike Shop in Elljay, Georgia is hosting the 2011 Italian Road Bicycle Festival on April 16, 2011 beginning at 9 AM.  There will be many different bike routes to take ranging from 45, 70, and 100 mile rides. North Georgia has some very scenic country back roads so you will really enjoy the scenery as you ride. All routes will be well marked. You may even want to take part in the 3.5 mile escorted Family Fun ride.
The rides will be as follows:
Gianni Bugno – A 45 mile intermediate ride consisting of rolling hills. A 3000 foot climb.
Marco Pantani – A 70 mile advanced/difficult ride. About a 6500 foot climb.
Italian Festival Century – A 100 mile extremely difficult ride. About a 9000 foot climb.
All rides will have supported SAG stops (water and fruit) and Broom Wagon. You can see the route details on cartecaybikes.com.
Registration fee is $35. The Parade ride is Free. Call 706-635-BIKE (2453) to get more details and information.
Come back to downtown Ellijay after your ride to enjoy some live music at the Three Rivers Music Jam in the city parking lot on River Street from 6 PM to 10 PM.
Cartecay Bikes is located at:
123 North Main Street
Ellijay, GA