Ellijay Restaurants: 6th Annual Taste of Ellijay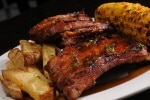 Come on out to Main Street in downtown Ellijay, Georgia on May 26, 2011 from 5:30 PM to 8:30 PM to sample some of the best food the North Georgia mountains has to offer at the 6th Annual Taste of Ellijay. Many restaurants, caterers and food vendors from around the area will be represented and you will be able to sample their wares. There is no admission for the event. If you choose to get a taste, you can purchase tickets for samples for $1 each.  Sample prices range from $1 to $4. Vendors will be there with merchandise such as books, bakeware and canned goodies. It will be a fun night with music and…did I mention food?
You can purchase sample tickets at the Gilmer County Chamber of Commerce located at: 368 Craig St., Ellijay, GA. For more information call 706-635-7400.