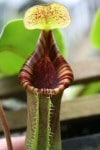 Learn to build your very own bog garden at the Bog Garden Workshop taking place at the Mountain Ridge Garden Shop in Ellijay, Georgia on Saturday May 21, 2011 from 10:30 AM to 4 PM or until the products run out. No reservations are necessary but the workshops fill up fast so you'll want to get there early.
Bring a container that does not have holes such as a stock pot or bird bath and some green moss if you can. Soils and plants such as pitcher plants, venus fly traps, and creeping jenny will be for sale to complete your bog garden.
There will be workshops going on every Saturday so stay tuned. For more information, call 706-698-2815.
Mountain Ridge Garden Shop is located at:
746 River St.
Ellijay, GA