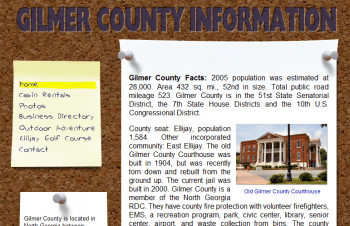 Find information on Georgia mountain vacations and local cabin rental companies at this Gilmer County Georgia Website
Read population facts and history about the "Home of the Apple Festival", Gilmer County Georgia. Also find out the operating hours for the county landfill and convenience centers for trash and garbage disposal.
Looking for a builder or real estate agent? This site has the information you need for Ellijay and East Ellijay residents.
Georgia mountain vacations are a close drive from Atlanta!