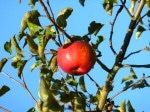 Pick your own apples at the Red Apple Barn in Ellijay, Georgia in the months of September and October, 2011. Take a wagon ride to the orchard, get a tour of the orchard and pick some apples. For just $5 you get the wagon ride, the tour of the orchard, one cup of apple cider, and 1 apple. Prices for additional apples vary according to the amount you choose.
The first day of the U-Pick season is Saturday, September 3, 2011. Times are 10:30 AM to 5 PM. Fridays are reserved for groups of 10 or more. For more information, call 706-635-5898 or 706-635-7674.
Red Apple Barn
3379 Tails Creek Rd.
Ellijay, GA