Fun at B.J. Reece Apple House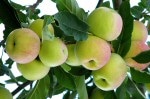 It's apple season in Ellijay, Georgia and it's time to visit the apple houses for some fresh apples and fun! B.J. Reece Apple House is one of the places to do this. Not only can you pick your own apples but you can try shooting an apple with the apple cannon, visit the petting farm, get a fried apple pie or other delicious offering from their bakery and enjoy the beautiful North Georgia mountains.
U-Pick apples begins on September 3, 2011 and runs through October. It's easy, all you do is puchase the size bag of apples you want and go out to the orchard and pick them. Don't forget to stop by the newly remodeled bakery to get an apple danish, fried apple or peach pie, homemade fudge and more. For more information, call 706-276-3048.
B.J. Reece Apple House
9131 Highway 52 East
Ellijay, GA