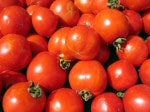 One of the best ways to get good, nutritious food is to shop for food grown locally. Whitestone Farm and Trade Farm Store in Talking Rock, Georgia is run by a 6th generation native and his wife and offers fresh grown produce, herbs, and local organic meats. It is now open on Fridays 2 PM to 6 PM, Saturdays and Sundays 9 AM to 6 PM.
A very enjoyable part of summer is being able to get fresh, locally grown food. You can't begin to compare fresh from the farm with grocery store food. Help support our local farms and farmers by giving them some business. I'm sure you'll be glad you did. For more information, call 706-669-0590.
Whitestone Farm and Trade
961 Old Whitestone Rd.
Talking Rock, GA