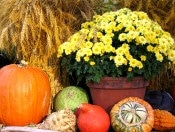 If you have no particular plans for Thanksgiving this year, you may want to consider going to the Martyn House for their Farm to Table Thanksgiving Feast on November 25, 2010 from 3 PM to 6 PM. Author and Chef Heather Antonelli is back by popular demand. There will be many tasty traditional and international delicacies on the menu.
Thanksgiving dinner will be $65 per person. You must have reservations and seating is limited so contact the Martyn House at 706-635-4759 soon!
Author and Chef Heather Antonelli will be at the L & L Beanery in Blue Ridge, Georgia on November 24, 2010 at 2 PM for a book signing. Stop by to get your personalized copy of her cookbook haute n the kitchen.
The Martyn House is located at:
912 Flat Branch Road
Ellijay, Georgia