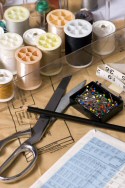 If you have an interest in sewing and want to learn some basic skills or to advance your sewing knowledge, sign up for a class at Oh Say Can you Sew, located in East Ellijay. This store has a good variety of fabrics, patterns, sewing supplies, and holds workshops for all skill levels.
A two session workshop on Beginning Smocking will begin on January 8, 2011 from 10 AM to 2 PM. The second session will be on January 22, 2011. The cost of the workshop is $35 and includes a pre pleated practice piece, needles, floss, smocking plate, and handouts. Students will need to bring scissors, pins, and a pen to use to take notes. At the end of the first class, students will need to purchase fabric to use for the second class.
For more information and details about this class and other workshops, contact Oh Say Can you Sew at 706-276-7326.
Oh Say Can you Sew is located at:
941 Maddox Dr. Suite 214
East Ellijay, GA