Downtown Ellijay is right in the middle of all the action. When you first arrive the downtown district reminds you of a town from an earlier time. The people are friendly, the pace is slower and the fresh oxygen-filled mountain air flows freely through your system. As you walk through the historic downtown area you start to notice everything that is going on. Ellijay is everything you want in a small town.
Shopping DTE
The energy that downtown is starting to create is infectious. Buildings that once stood empty are coming to life. New shops, new restaurants, and new ideas are starting to blend seamlessly with the atmosphere that makes Downtown Ellijay so great. 
dining dte
From a hot, fresh fulfilling breakfast to a dinner with a view, the city of Ellijay aSnd the surrounding area has a lot to offer. The food is like homemade cookin' especially in the early fall when visitors come for the Apple Pickin' festivities. The atmosphere is quaint and there are options for ALL palates.
Abby's Ice Cream & Frozen Yogurt
24 S. Main St.
Ste. E
Ellijay Georgia 30540
706-408-1119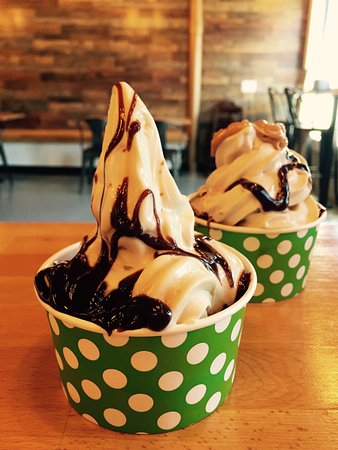 Welcome to Abby's Ice Cream and Frozen Yogurt in Downtown Ellijay, GA. Here at Abby's, we have 4 easy steps to make your experience fun and memorable. Step 1: Pick It! – Pick from 3 cup sizes and our easy flat-fee pricing ($5 Green Cup, $6 Pink Cup, and $7 Blue Cup). Step 2: Fill It! – Fill your cup with a variety of delicious flavors of Frozen Yogurt, Ice Cream (Gelato), and Sorbet. Step 3: Top It! – Top your flavors with your favorite toppings. With 45+ to choose from, you will have fun making your creation just right! Step 4: Love It! – After you finish making it, the last thing left is to simply LOVE IT! Come to Abby's in Ellijay, GA and join the fun!
---
Back Porch Bistro
10 Northside Square
Ellijay Georgia 30540
706-636-1111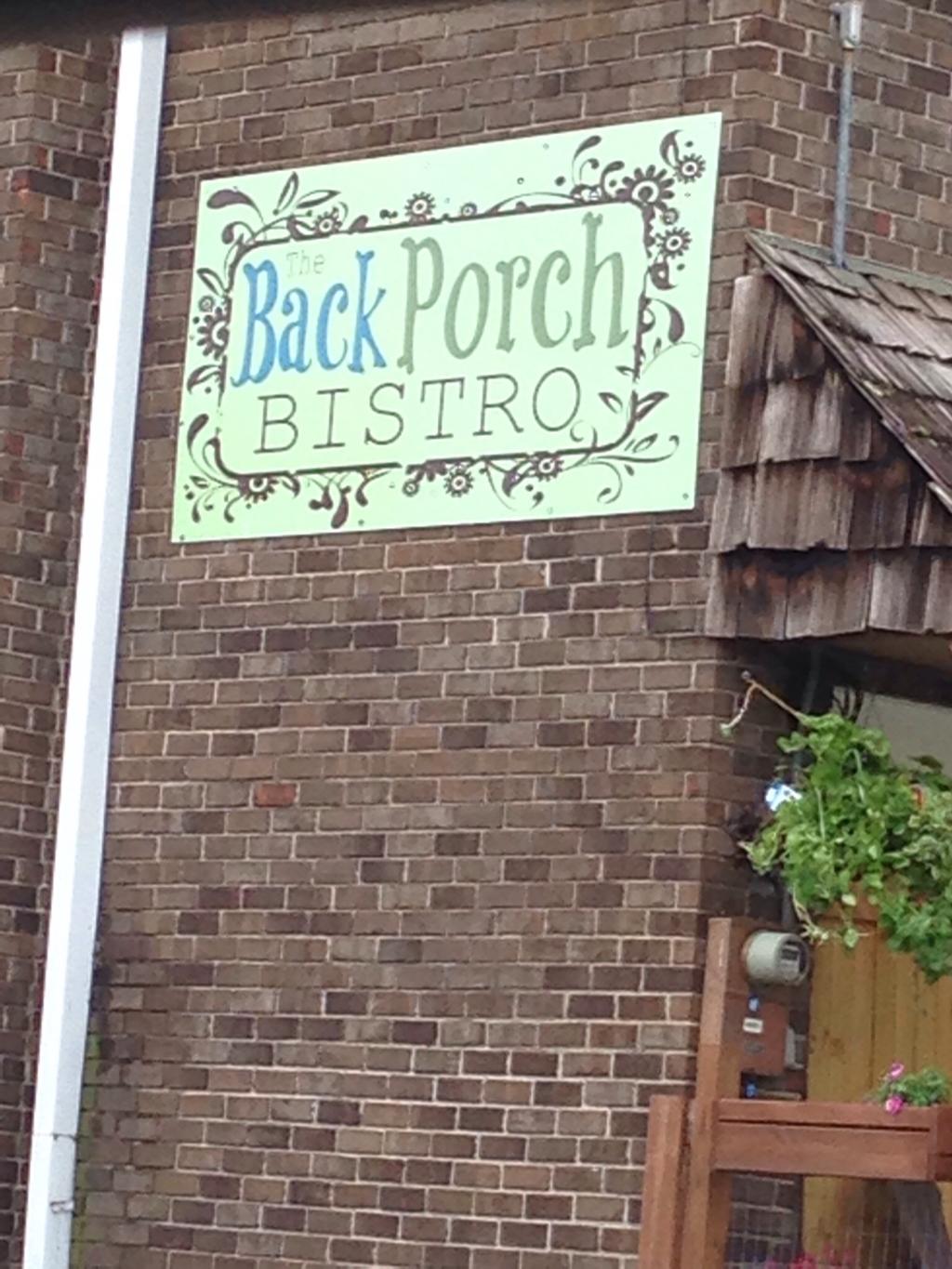 Open for: Lunch
Specialty: Sandwiches, Soups, and Sweets
Hours
Monday, Tuesday, and Thursday 11:30 AM – 3:30 PM
Wednesday Closed
Friday, Saturday, & Sunday 9:00 AM – 3:30 PM
One of the most wonderful things about this small establishment is they offer both vegetarian, vegan, and gluten-free dishes. Their daily soups are fresh and delicious and they are well known for their great selection of freshly made-to-order sandwiches. When you are shopping in Downtown Ellijay and want a quick, easy and enjoyable lunch this is the perfect place to go. Sandwiches are all served with sides and their apple slaw is quite well known. If you save room for dessert you will be delighted at the daily variety made by Tami herself! Take advantage of the inside seating or enjoy the back porch while soaking in the cool mountain air. Normally, it is only open for lunch but you will find the Bistro sometimes does pre-show dining when there's an event taking place downtown. Enjoy a first-class food experience in the little tucked away town of Ellijay.
---
Bavarian Chocolatier
4 Northside Square
Ellijay Georgia 30540
706-610-2010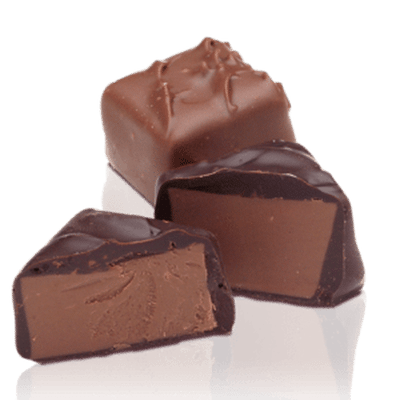 ---
Bigun's Barbeque
362 Carnes Mill Road & Hwy. 515
Talking Rock Georgia 30175
If you live in the Jasper or Talking Rock Area then you have probably been to Bigun's BBQ. For those of you in Ellijay that want to try a great Barbeque then don't miss what many call the best burgers and barbecue in Ellijay GA. It's only 10 minutes south of Ellijay on the left side of highway 515. Not as far as the Jasper main exit. Their menu is posted on their website so you can print it out and find exactly what you want to eat. It used to be a best kept secret but we just let the cat out of the bag
---
Boardwalk Pizza and Pub
25 N. Church St
Ellijay Georgia 30540
706-273-2865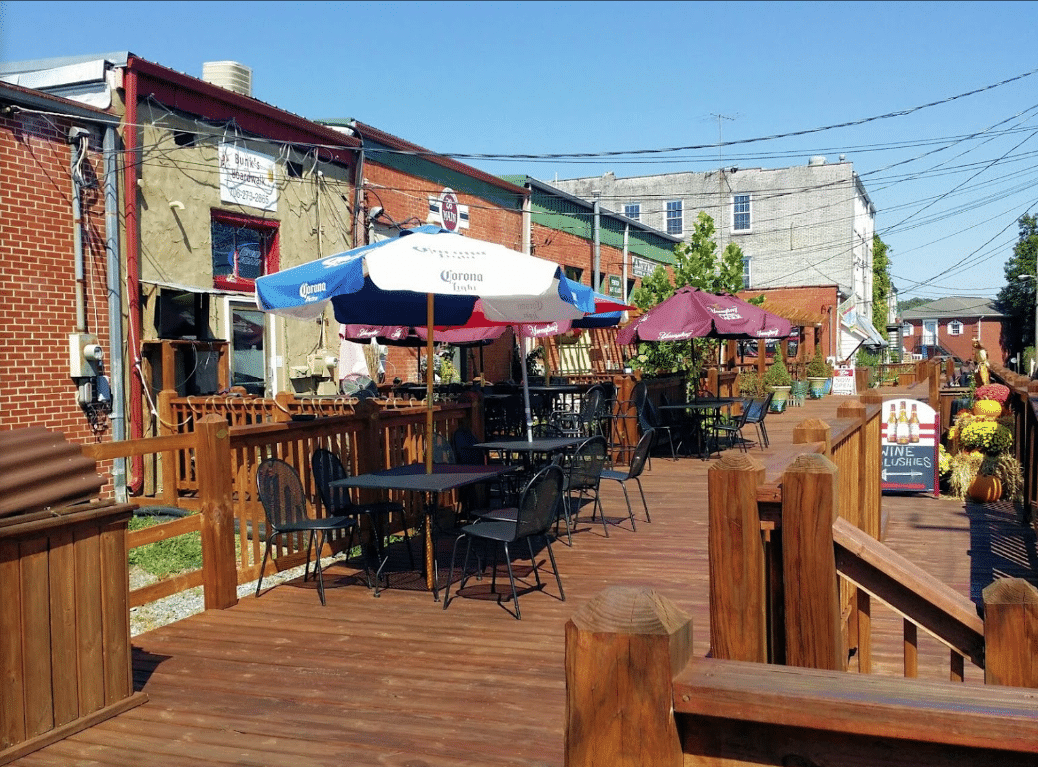 Open for: Lunch and Dinner
Specialty: Pizza & Beer
The boardwalk in Downtown Ellijay is the only place where you can walk from store to store with a drink in your hand. Boardwalk Pizza and Pub is a small comfy hole in the wall. Sit up at the bar, sit outside on the breezy patio, play corn hole and experience the many options it has to offer.
---
Cajun Depot
67 Depot St.
Ellijay Georgia 30540
706-276-1676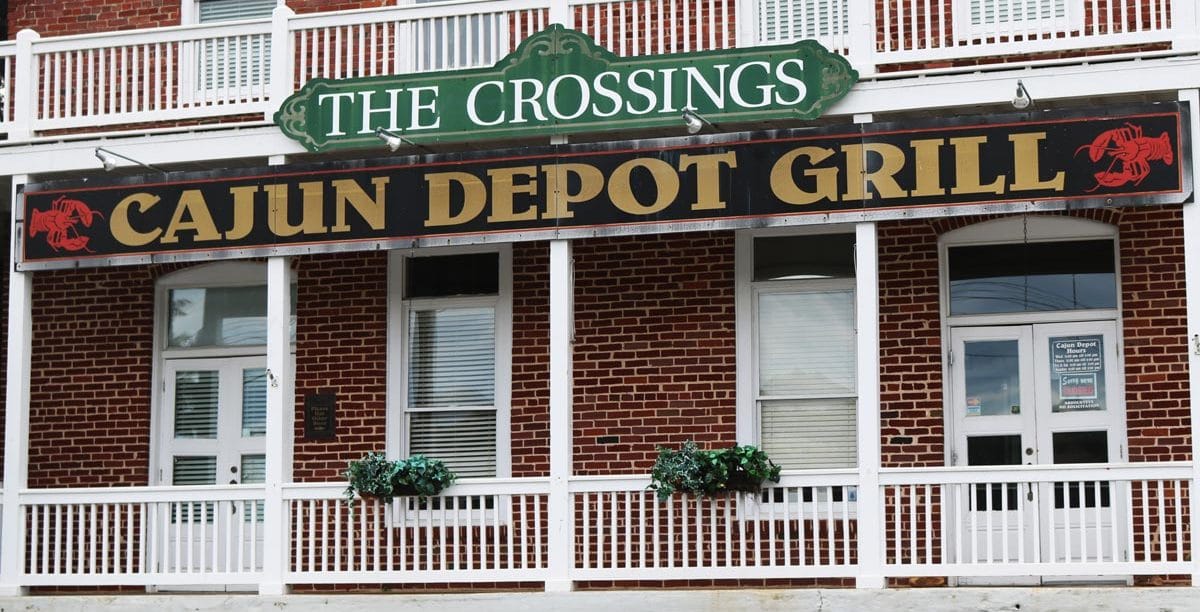 Open for: Lunch and Dinner
Specialty: Soup, Salad, & Sandwiches
Only a slight trip off Main Street ( a few blocks) you will find one of the most charming buildings in Historic Ellijay. The Cajun Depot Grill is situated next to the old railroad station and has the look of a New Orleans row building in the French Quarter! Once inside you will be greeted by the friendly staff and the owner may even sit at your table. The grill specialties are of a distinctive Cajun flavor. Some of the local favorites are crawfish, poor boys, and the grits cake with shrimp! The Grill is well known for its fresh seafood artfully prepared with just the right touch of Cajun spices. We are believers that this establishment could hold its own on Bourbon Street.
---
Cantaberry Restaurant
5 S. Side Square
Ellijay Georgia 30540
706-636-6166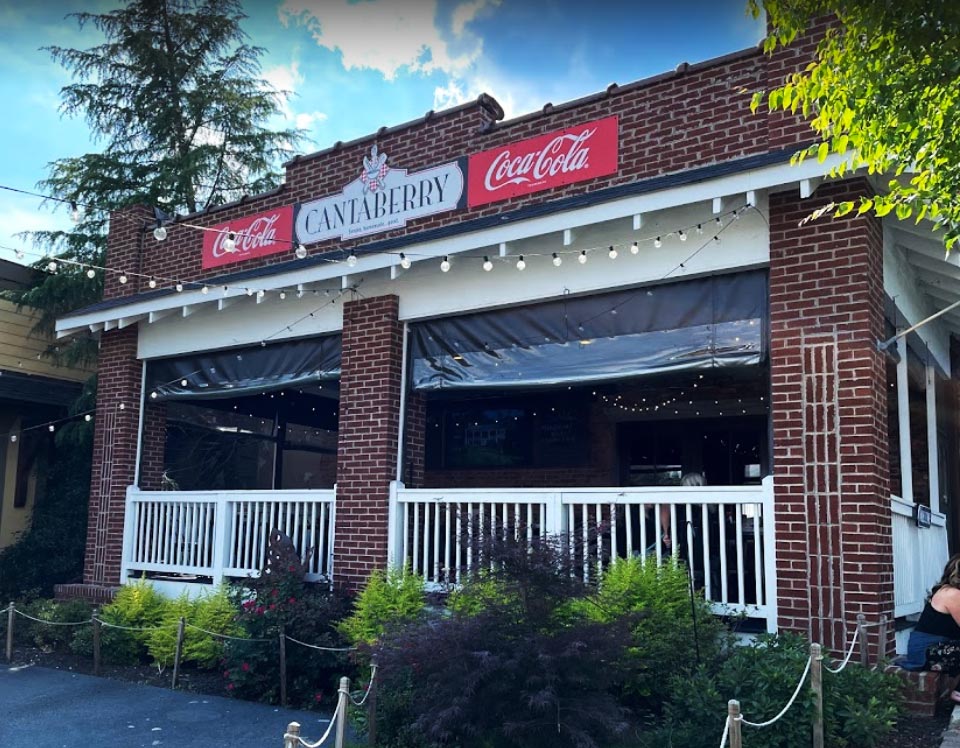 Open for: Lunch and Dinner (See hours)
Specialty: Soup, Salad, & Sandwiches
Hours: Open 7 days a week
Monday-Thursday 11-4ish
Friday-Saturday 11-8ish
Sunday 11-5ish
'Simple, Homemade…Good.' The Cantaberry Restaurant now has two locations, Historic Downtown Ellijay and Blue Ridge Georgia. It is the place to go for homemade soups, gourmet sandwiches, fresh salads, and delicious desserts at a reasonable price. The employees are very friendly too!
---
Cornerstone Café
76 N. Main St.
Ellijay Georgia 30540
706-636-2230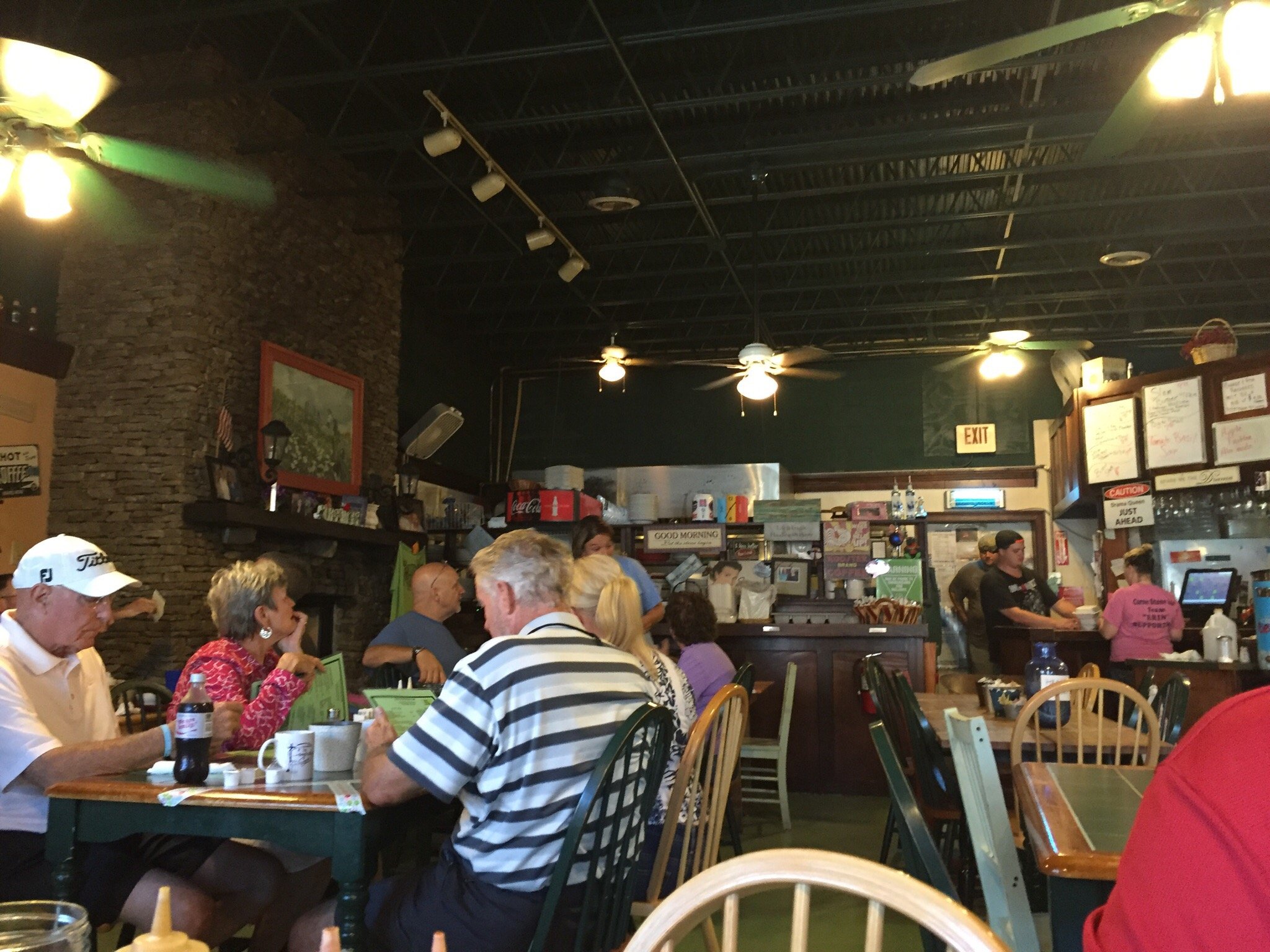 Open for: Breakfast and Lunch
Specialty: Eggs, and Sandwiches
This go-to breakfast and lunch venue is the perfect stop while shopping on Main Street. Especially known for their filling breakfasts one of our favorites includes the spinach feta omelet. Their menu has all the hearty specials expected for the ultimate country breakfast. Fresh eggs, grits, hash brown potatoes, bacon, ham, sausage, and homemade biscuits are some of the delightful comfort foods Cornerstone has to offer! Lunch has a variety of sandwiches and seasonally changing daily specials. If you are looking for a place where the locals hang, you found it! The friendly staff and fun atmosphere make it an enjoyable dining experience!
---
Ellijay Coffeehouse
131 N. Main St.
Ellijay Georgia 30540
706-635-5565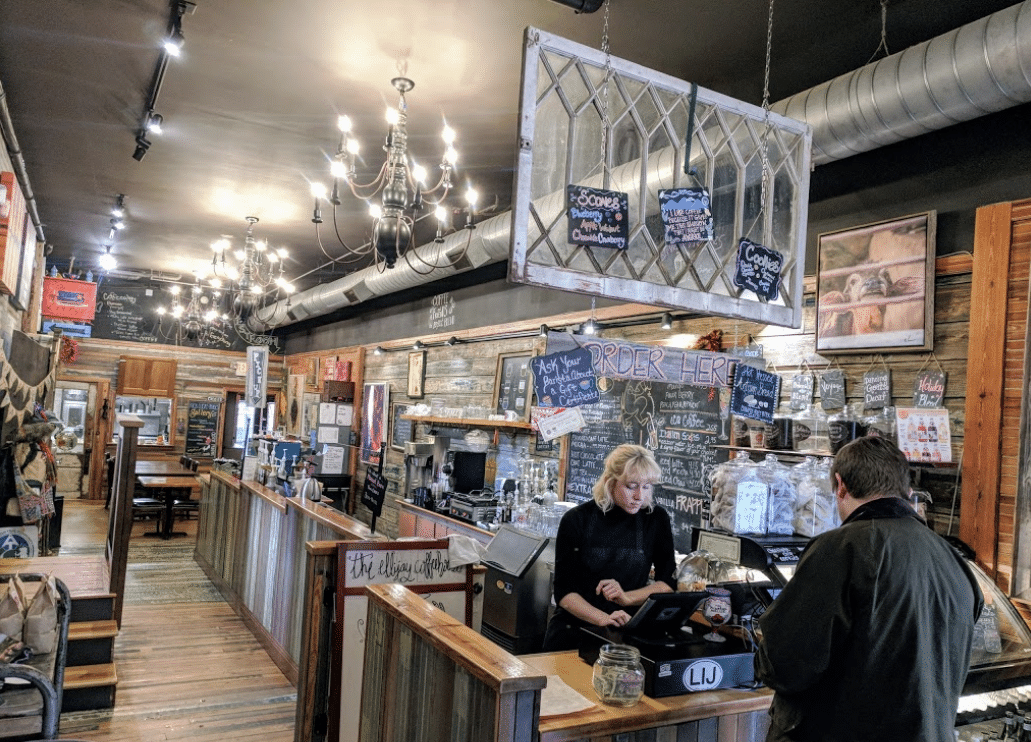 Open for: Breakfast and Lunch
Specialty: Barista Style Coffees
The local coffee shop offers so much more than just outstanding coffee drinks. The atmosphere gives a bohemian vibe and they are known for their variety of delicious panini sandwiches. There's a funky outdoor space around the back to enjoy in beautiful weather while sipping coffee with friends. Be sure to check out 'the lounge', a room filled with comfy chairs, sofas, and even a lending library. Bring your laptop and hang out as long as you need. This gem is a real treasure in this ever-fascinating small town!
---
Ellijay Wood Fired Pizza
2 River St.
Ellijay Georgia 30540
706-707-4992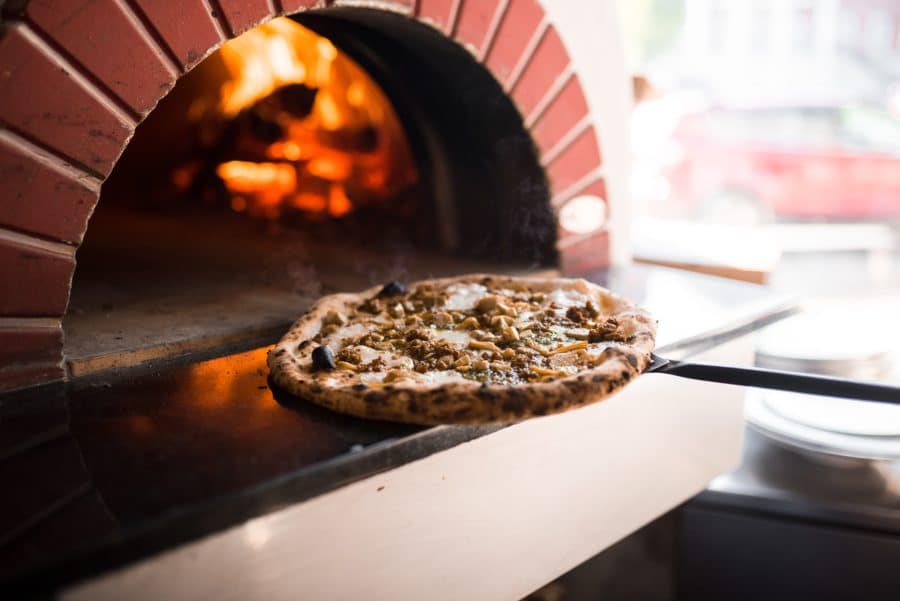 Ellijay Wood Fired Pizza opened in 2018 and is located at the corner of River Street and Main Street in Historic Downtown Ellijay. Our wood fired oven from Naples, Italy serves authentic old world pizza using only the highest quality and locally sourced ingredients. Our pizza is complimented an assortment of cuisine utilizing ancient cooking methods with modern, all natural flavors. Simple food with a modern twist.
---
Emily's Bar & Restaurant
24 River Street
Ellijay Georgia 30540
877-659-0517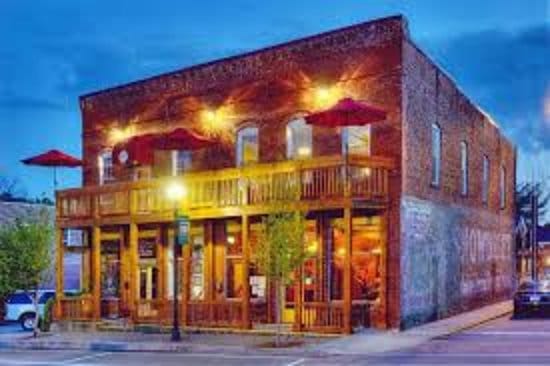 Open for: Lunch and Dinner Wednesday through Saturday 12PM – Close, and Sunday for Brunch Menu all-day
Known for: Sunday Brunch
One of the shining stars of Downtown Ellijay is this cozy little gem. The owners greet you and the menu is always changing depending on freshness and the season.
Don't enter and think this is all there is cause upstairs has a second bar and more seating and then tucked away is a lovely special events room.
Live music and trivia keep the upstairs entertained almost every night. There is also a dog-friendly patio outback.
Known for their amazing Sunday Brunch this place rocks! Lobster Benedict…yes, please!
Check out their website for hours and events but be sure not to miss this treasure when you are here.
---
Hitching Post
740 S. Main St
Ellijay Georgia 30540
706-276-9924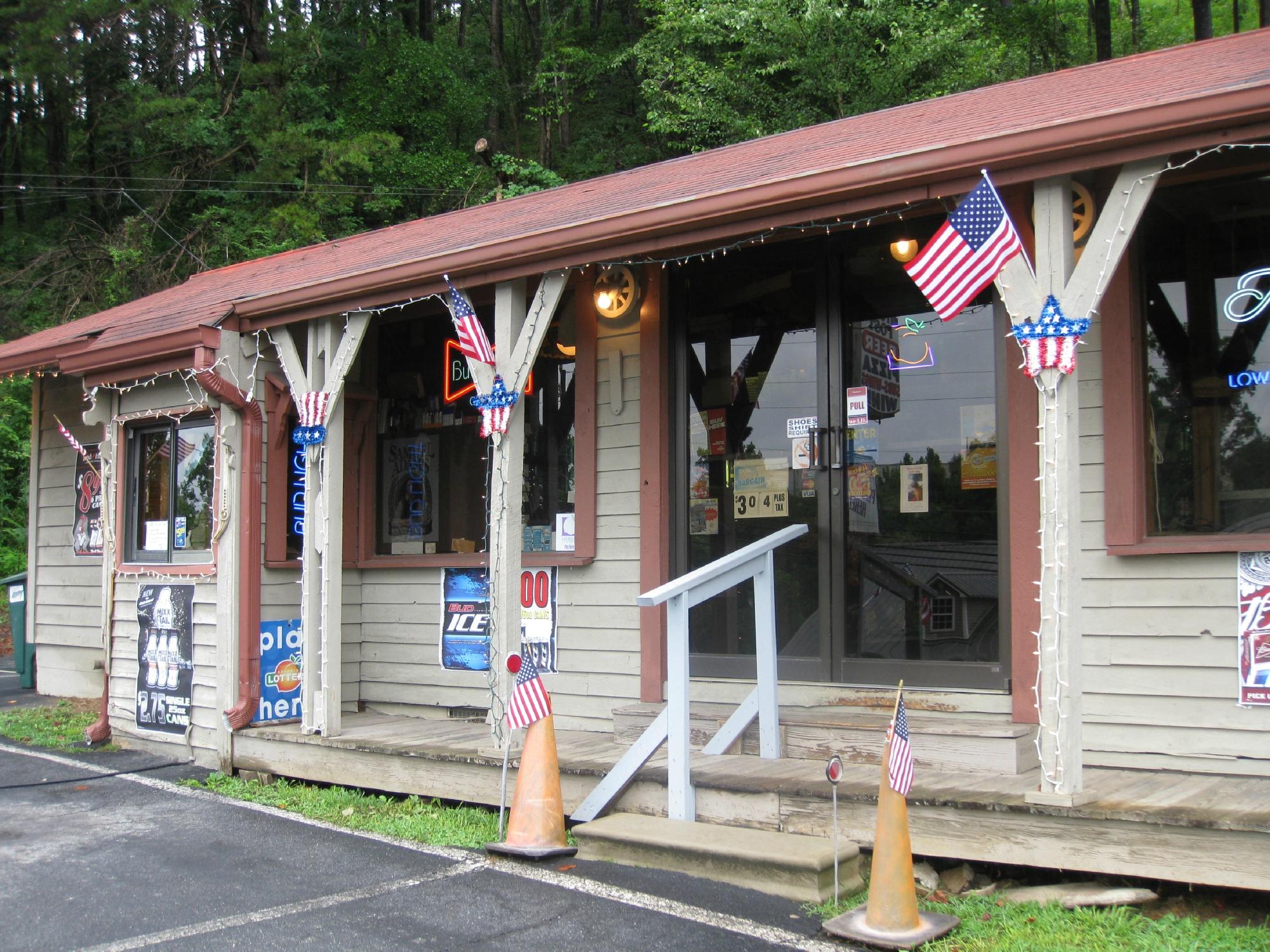 Open for: Lunch and Dinner
Specialty: Pizza and Sandwiches; Beer and Wine Package Store
Pro tip: Take out only
Wanna stay in for the night and enjoy the relaxing North Georgia Mountains?
The Hitching Post is a local iconic place to order a cold beer, local wine, hot pizza, and authentic sandwiches to go. The pizza sauce has a unique one-of-a-kind flavor and Mayor Al does NOT skimp on the toppings! Sandwiches are made cold or toasted in the pizza oven. The food is always delicious, and the customer service is always on point.
---
Kasei Sushi and Sake
10 River Street
Ellijay Georgia 30540
706-851-2200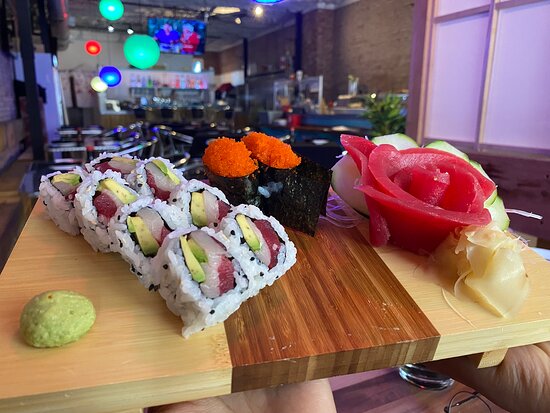 Kasei Sushi and Sake opened in 2020 with the goal of bringing fresh fish, unique Asian-inspired drinks and a world class sake experience to the north Georgia mountains. Located in Ellijay, Georgia, a quaint and historic small town Kasei offers several vegetarian, pescatarian, and vegan friendly options along with world class Japanese cuisine.
---
La Catrina Tacos & Margaritas
101 S. Main St.
Ellijay Georgia 30540
706-635-1520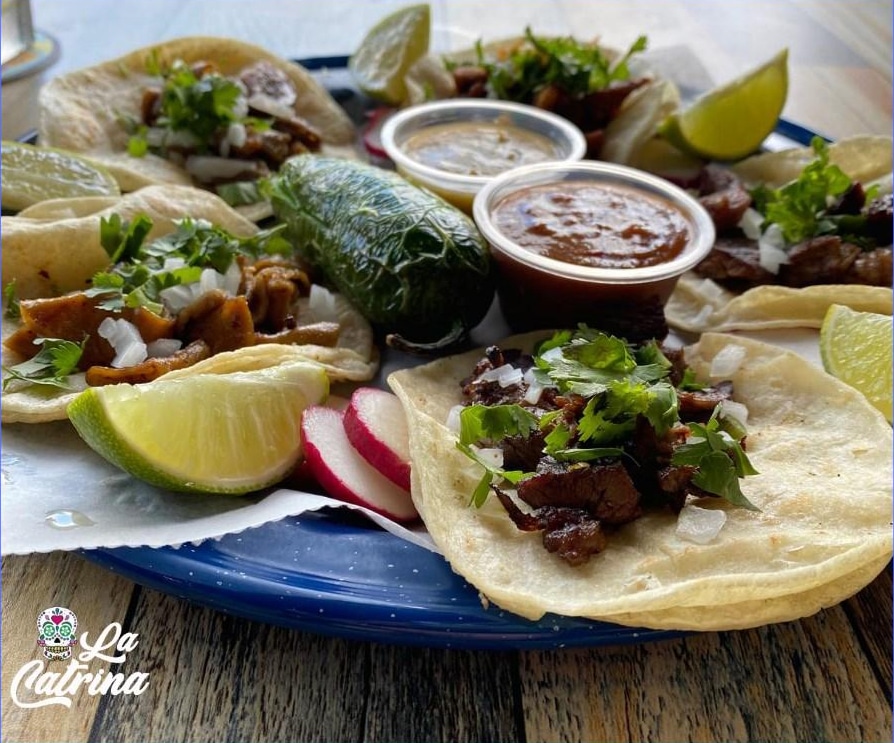 Order dishes of Mexican cuisine at this restaurant. You can always try perfectly cooked steak tacos, steak fajitas and grilled chicken - a special offer of La Catrina. According to the reviewers' opinions, waiters offer good margaritas, wine or beer.
Select between indoor and outdoor seating. You will be pleasantly impressed with affordable prices.
---
Moo Bears Ice Cream & Hot Dogs
40 River St.
Ste. A
Ellijay Georgia 30540
706-276-6116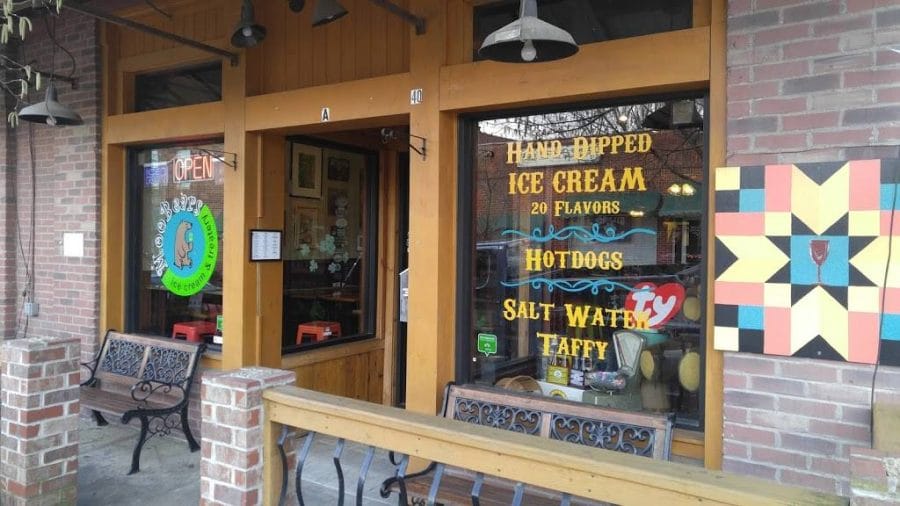 MooBears features hand dipped Ice Cream and Angus Beef Hotdogs in beautiful historic downtown Ellijay. We serve over 20 flavors of premium Ice Cream. But before having dessert you need to try one of our delicious Hotdog's. We have 12 different kinds. Along with Ice Cream and Hotdog's we have craft soda in glass bottles from Boylan in a number of flavors including Root Beer and Birch Beer
---
Mr. P's
295 N. Main St.
Ellijay Georgia 30540
706-635-4040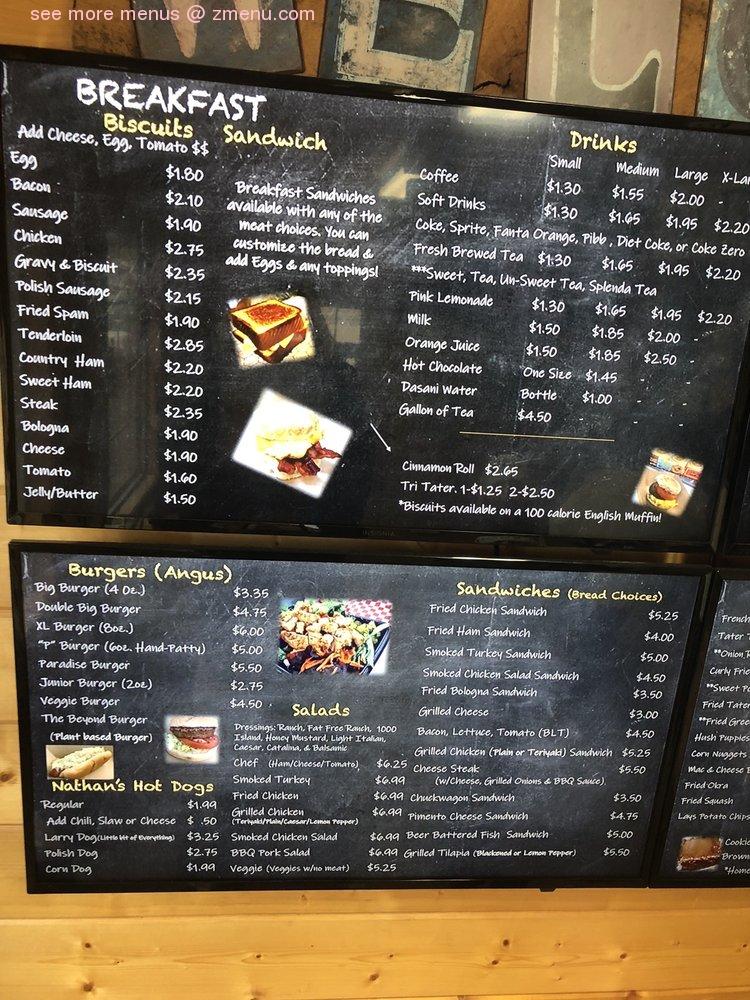 You have to try the famous "Paradise Burger'. With this Ellijay classic, you'll surely want a big cup of our Southern sweet tea with crushed ice. "All the way" means with cheese, homemade chili and slaw, plus a slice of a juicy ripe tomato. From burgers, hotdogs and sandwiches to homemade barbecue, old-fashioned Brunswick stew and classic fried chicken.
---
Papa's Pizza To Go
9 Russell Dr
Ellijay Georgia 30540
(706) 635-7020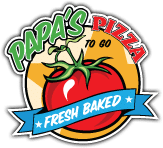 Looking for Pizza in Ellijay GA?
---
River Street Tavern
40 River St.
Ste. B
Ellijay Georgia 30540
706-276-2611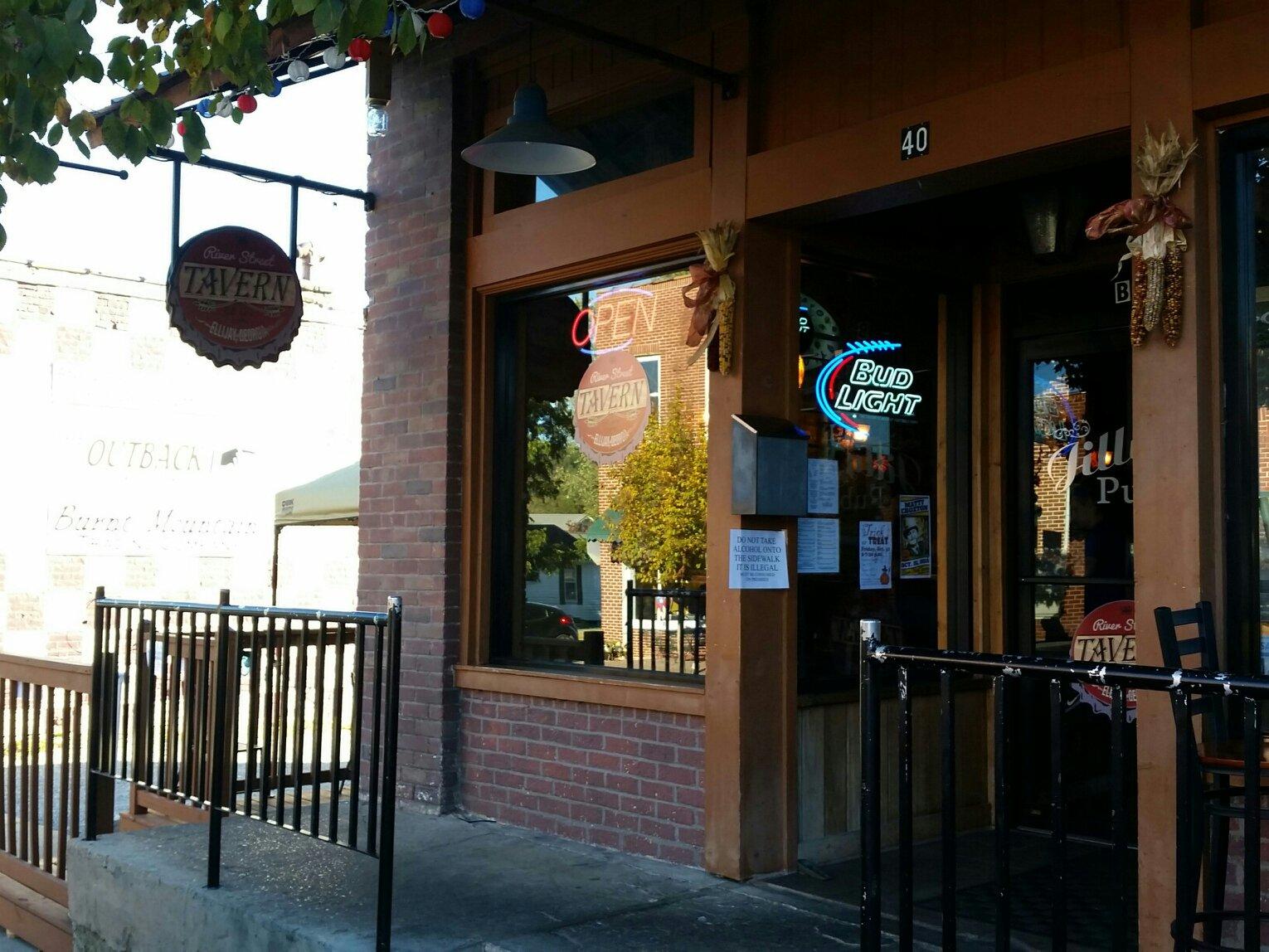 Open for: Lunch and Dinner
Specialty: Good Ole' Place to be at Night
It is a great adventure to stroll into River St Tavern while enjoying Ellijay restaurants. The dynamic duo who own it are proud Ellijay natives and this is their award-winning restaurant since 2014. One of the reasons to return as regulars are the weekly specials and local live music. Enjoy local talent while sipping local beverages.
---
The Gum Shop Fun Shop
71 River St
Ellijay Georgia 30540
Coming soon.
---
The Roof Ellijay
16 River St.
Ellijay Georgia 30540
706-635-7663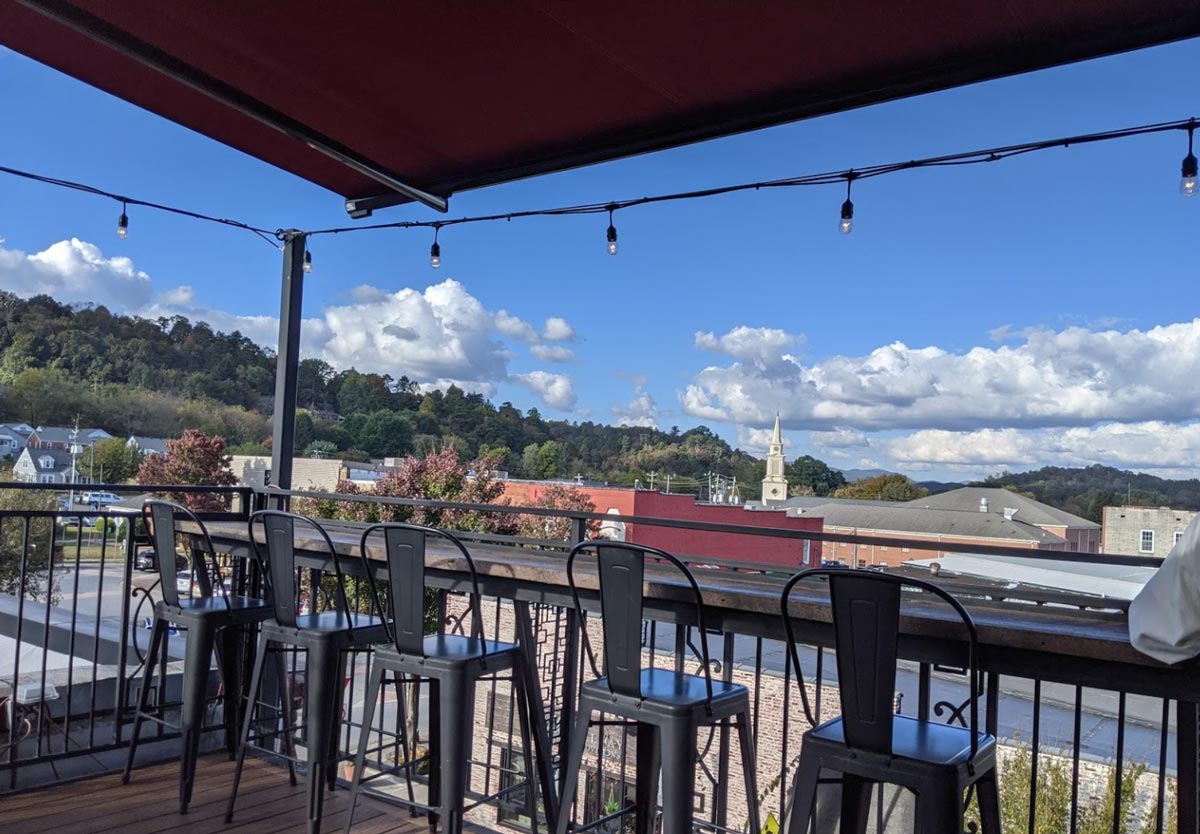 Just like the name says this new restaurant has all the views of Ellijay and Beyond.
You will find indoor as well as outdoor seating and comfortable awnings for sun and heaters for chilly evenings. With the new elevator, the 4 story stairwell is not as intimidating but you may need it to burn off that delicious meal! Their nod to the South is on the appetizer menu with boiled peanuts and bologna sliders…both unique and yummy. From fabulous burgers to shrimp and grits they have it all….including Sunday Brunch! The menu is changed frequently but a lot of the favorites stay!
A great full-service bar and helpful servers…You will love the food and stay for the view.
Check their website for hours and info!
---
The Shack
718 N. Main St
Ellijay Georgia 30540
706-576-7713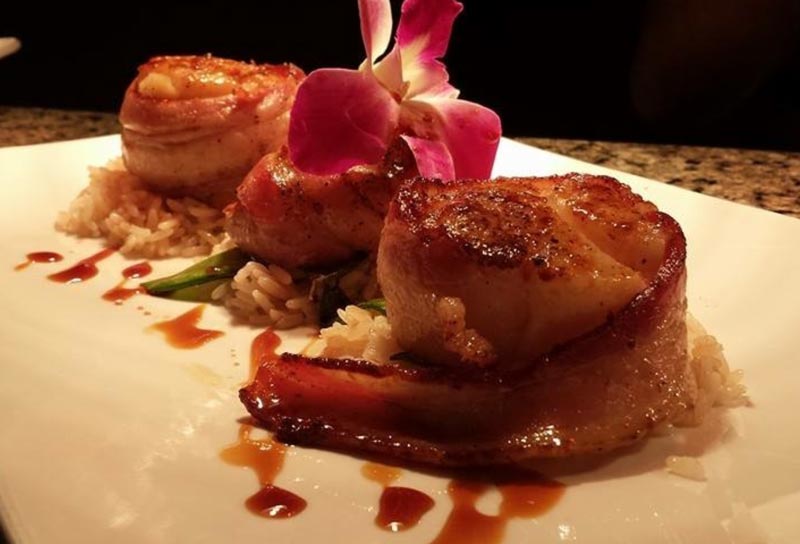 This Asian Fusion Delight is a unique addition to this Mountain Town. The owner's Abbey and Tara rock the menu. Ever-changing and the freshest food you'll find anywhere, Pho and Poke Tuna are perfect. But you have the ability to design your favorite combo from their daily updated board. And their recommendations are always spot on. One of the latest additions is bubble tea offered in several flavors.
There is cozy seating and even a reading nook. You must check out this most delicious restaurant in Ellijay!
Check their website for hours and info.
---
BEAR CLAW VINEYARDS
2281 Tennis Court Road
Blue Ridge Georgia 30513
706-223-3750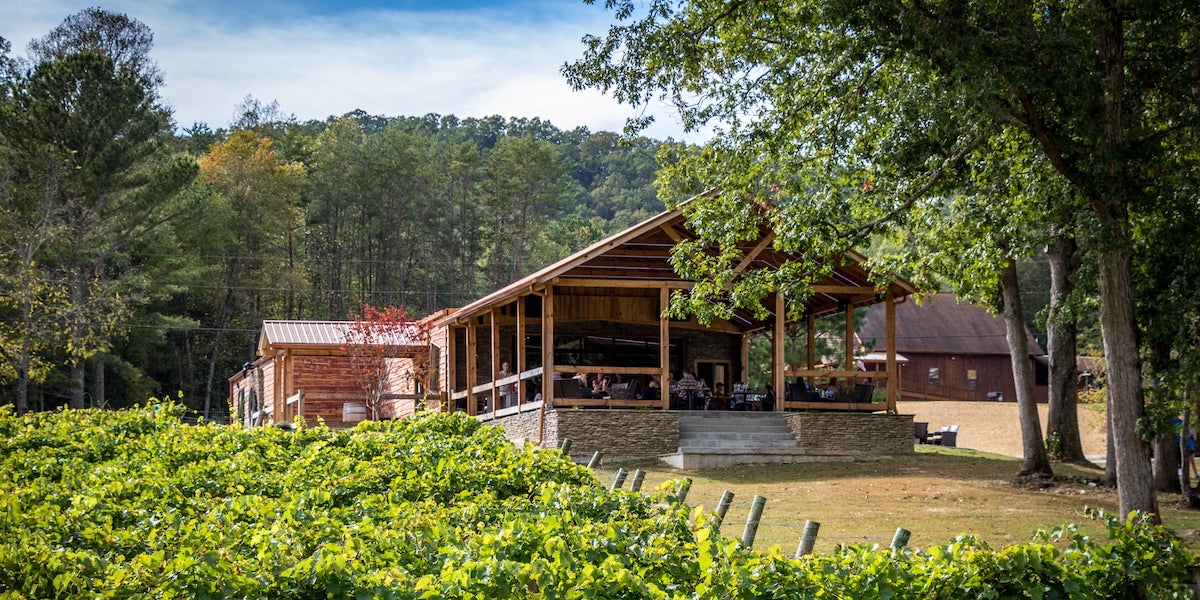 At Bear Claw Vineyards, the vibe is relaxed and the views are restorative. Whether you're looking to sip your wine while lounging by the fire pit or playing a game of corn hole, there is something for everyone. Located in Blue Ridge, GA about 30 minutes from Downtown Ellijay, Bear Claw Vineyards was created on a foundation of high-quality wine and a laid-back aesthetic. On Saturdays from 3pm-5pm you can sign up to take part in the wine bottle painting class and enjoy your wine while creating a take-home keepsake.
Open hours:
Open Sunday – Thursday 12pm – 6pm
Friday & Saturday 12pm-8pm
---
CARTECAY VINEYARDS
5704 Clear Creek Rd
Ellijay Georgia 30536
706-698-9463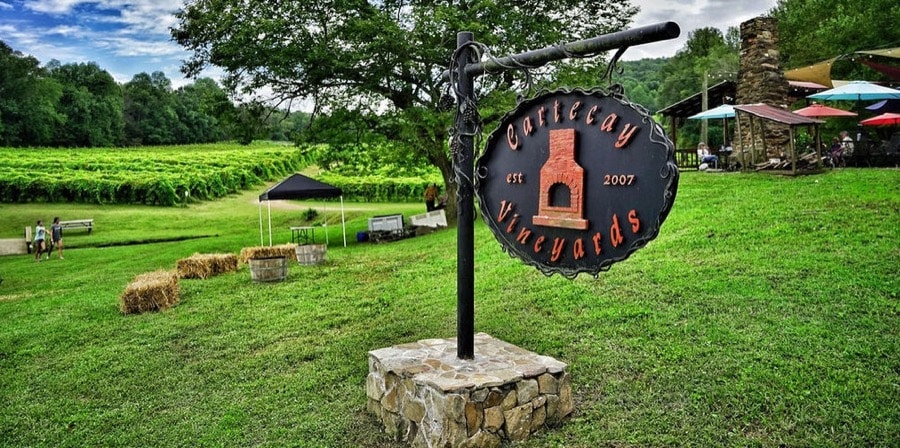 Located on an old farm that dates back to the 1890's this quaint North Georgia vineyard is only 15 minutes from downtown Ellijay. The vineyard offers 9 wines to include a crisp Vidal Blanc, a softly sweet Chimney Blush and a big bodied Merlot. The vineyard's Tasting Room is located in the farm's original barn that was refurbished and includes many of the barns original wood and charm. An outdoor Chimney Patio is a great place to sip your wine while enjoying the outdoors and when the weather is good you can expect live music! Want to do an event here? The Tasting barn has a private loft area that can fit up to 45 guests. The vineyard is also a beautiful place to host events or a wedding.
Open Hours:
Open 7 days a week – 11am-6pm
Monday-Saturday Sunday 12:30-5:30pm
---
CHATEAU MEICHTRY
1862 Orchard Lane
Talking Rock Georgia 30175
706-502-1608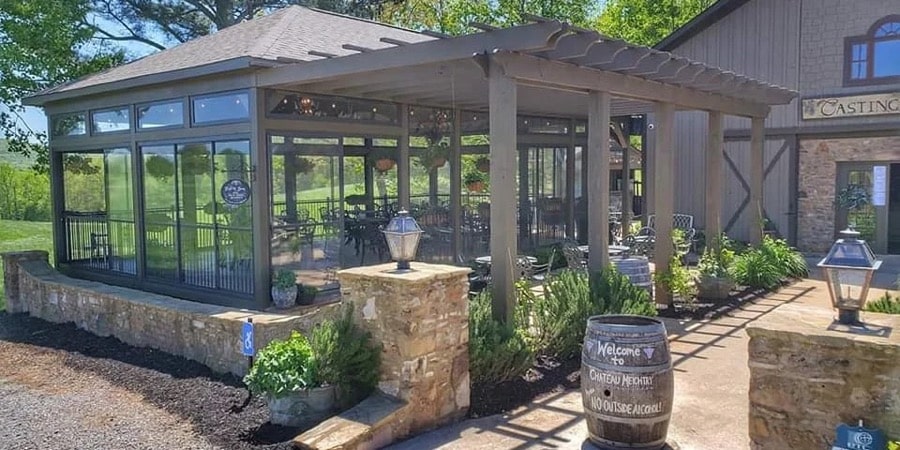 Nestled into the foothills of the Appalachian Mountains, Chateau Meichtry Vineyard and Winery is only a 20-minute drive from Downtown Ellijay. The vineyard is family owned and operated and boasts a variety of wines from a clean, crisp Pinot Grigio to a delightful Cabernet. The atmosphere is rustic and inviting; you truly feel as if you are in the foothills of a French chateau. Pull up a chair next to the big stone fireplace or grab a seat on the outdoor patio. Every Saturday from 1:30pm – 5:30pm the vineyard hosts live music for all to enjoy. Be sure to get there early as this place fills up quick!
Open hours:
Open 7 days a week 11am-6pm
Monday-Saturday Sunday 12:30-5:30pm
---
ENGELHEIM VINEYARDS
27 Lakeview Road
Ellijay Georgia 30540
706-635-9463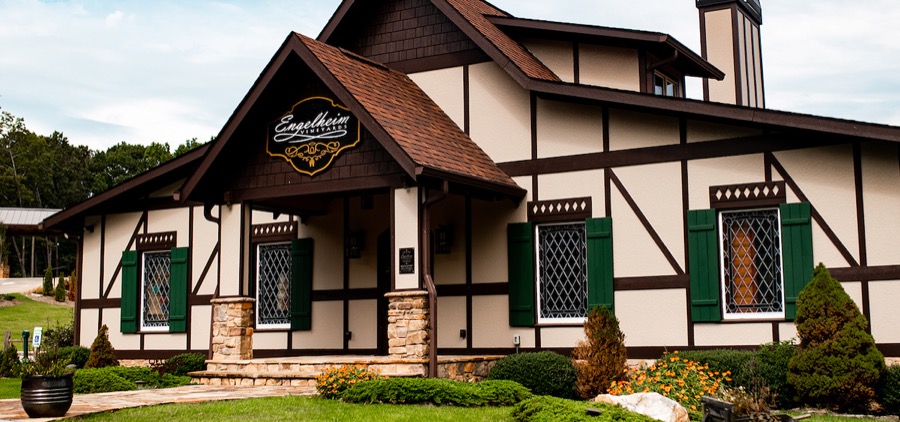 Engelheim Vineyards harvested its first vintage in 2011 and has been going strong ever since. Engelheim (German for "Angel Home") is family owned and operated and with sweeping views of the vineyard, it's an excellent place to experience the beauty of North Georgia. With 12 different varieties to choose from, you are sure to find something to tickle your fancy. And guess what? This vineyard is pet-friendly! Engelheim offers wine-pairing classes, wine-pairing dinners, dinners in the vineyard, art and music events as well as wine festivals. You can also choose to have your wedding or event here as well!
Open hours:
Open 7 days a week 12:30pm – 6pm
---
FAINTING GOAT VINEYARDS
201 Vineyard Way
Jasper Georgia 30143
(706) 692-9463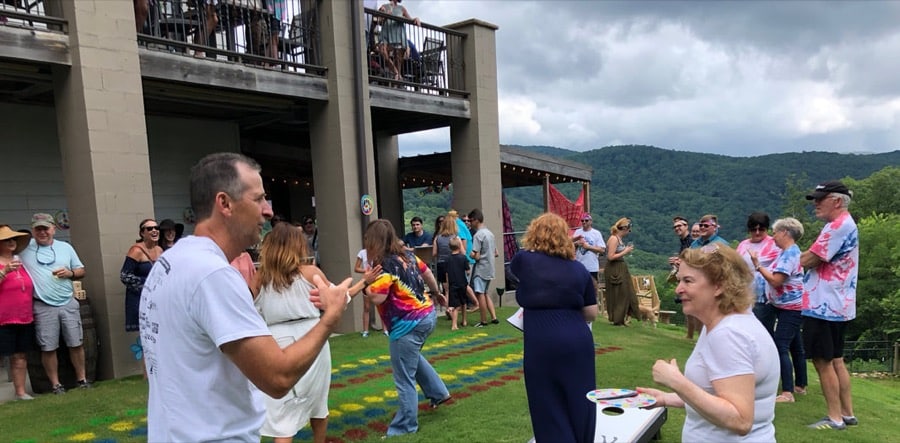 This boutique vineyard is located on the southeast side of Burnt Mountain in Pickens County, about 30 minutes from Downtown Ellijay. Picturesque views and award-winning wine make Fainting Goat a favorite among wine goers in North Georgia. With live music every weekend, a wine list complete with full-bodied reds, crisp whites and sweet blends and both indoor and outdoor fireplaces, this winery has it all. Planning an event? Fainting Goat hosts all types of events from small private dinners to weddings. Open hours:
Open Monday 12pm-6pm
Thursday-Saturday 12pm-6pm
Sundays 12:30pm-6pm
---
Grapes and Ladders Winery
2317 Hwy. 382 West
Ellijay Georgia 30540
470-416-9479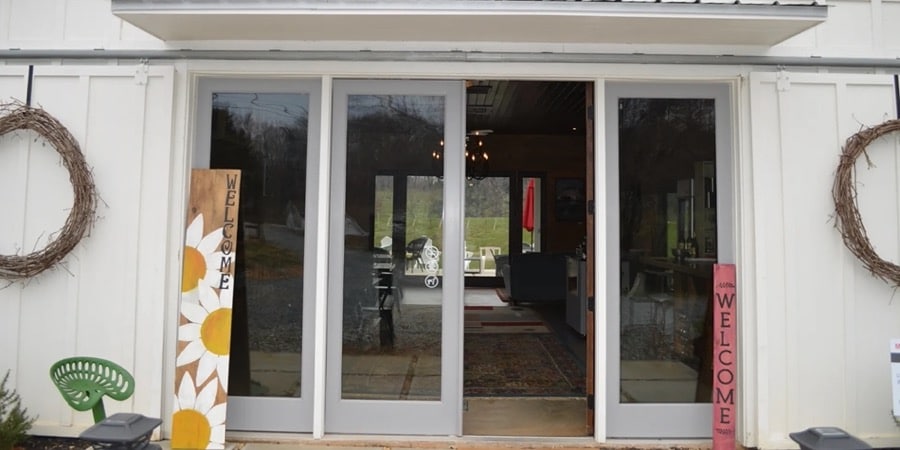 Grapes and Ladders is a family owned and operated vineyard, winery and tasting room.
---
Ott Farms and Vineyard
230 Henry Evans Road
Ellijay Georgia 30536
706-273-1891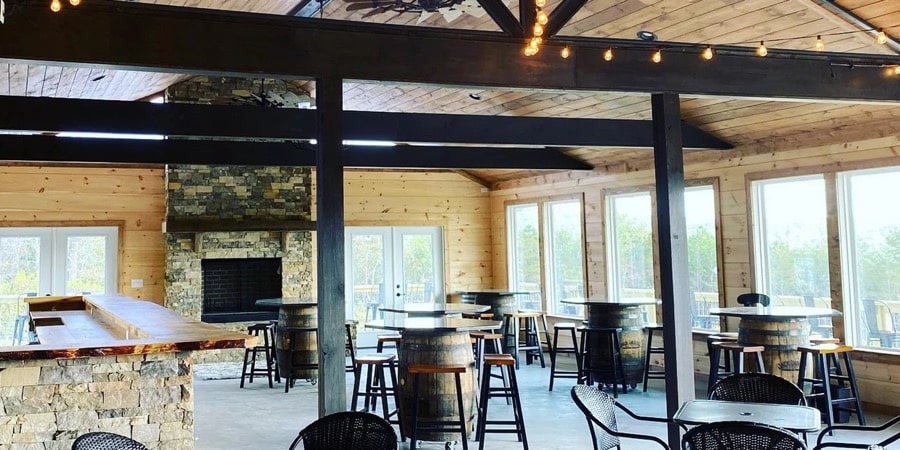 When Michael was 15 years old and got his first cow, he knew then he wanted to be a farmer. At the age of 17, he became the youngest entrepreneur in the fern (cut foliage) industry when he opened his own Fernery in Deland, Florida. Starting with 3 acres he quickly grew to 31 acres of cut foliage.
After 32 years and some life altering events Mike decided to make a change and take a ride about the country and see what the rest of the world was up to. He was soon approached by several individuals looking to get into the vineyard business. However they needed the help of a good ole Florida boy with Horticulture and farming knowledge. His skills quickly became highly sought after. He soon built Cartecay Vineyards, Engelheim Vineyards, Ellijay River Vineyard and consulted with Chateau Meichtry after injuring his shoulder helping others realize their dreams. He soon came to North Georgia Physical Therapy where Lee was working after having been injured in a car accident herself. She found helping others recover from injury very fulfilling. Mike fell for Lee instantly, however it took Lee a little longer to admit that she was smitten as well. After 5 months of physical therapy Mike finally asked Lee on a date and as they say that was that. Mike's dream of owning and operating his own vineyard quickly became Lee's passion as well.
​
Together they have built their vineyard from the ground up, clearing the land, planting plants, setting posts, running wire, hanging trellis systems, pruning, training, harvesting and finally making their own wines with the help Engelheim Vineyards and Chateau Meichtry that he stills helps with to this day. They have finally realized their dream with the opening of their Tasting Room and the production of wines from their own grapes.
---
SHARP MOUNTAIN VINEYARDS
110 Rathgeb Trail
Jasper Georgia 30143
(770) 735-1210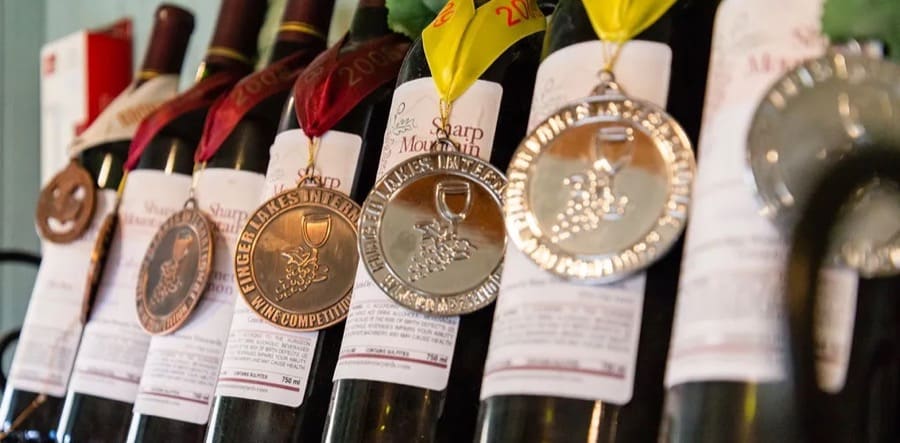 With 12 varieties of grapes and 15 different wines available for tasting and purchase, Sharp Mountain Vineyards has one of the largest selections of wines of any of the vineyards in North GA. Located 40 minutes from downtown Ellijay, wine-goers are encouraged to bring their own picnic to enjoy while sitting at the Pavilion listening to live music and sipping wine. Weddings are done here too!
Open hours:
Open Friday & Saturday: 12pm – 6pm Sunday: 12:30 pm – 5pm
---