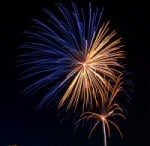 Visit downtown Ellijay, Georgia on the 4th of July, 2011 for a star spangled celebration. Enjoy the afternoon visiting the local stores as well as the craft and snack vendors that will be set up for the day. A parade will take place at 6 PM. A free concert will be offered at the Three Rivers Music Jam featuring the band Kharisma. Finish your celebration off right with the fireworks show happening after dark.
If you are interested in participating in the parade, contact the parade coodinator at 706-635-2782.
Have a happy and safe 4th of July!