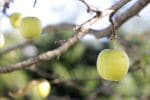 It's apple harvest time in Ellijay, Georgia and starting August 23, 2014 and running weekends through October, 2014 is U-Pick Apples and Pumpkins at the Red Apple Barn. Bring the whole family for an afternoon of fun picking apples, pumpkins, taking a tractor ride through the orchard, playing games and even have a picnic if you choose. The farm store will also have a good selections of fresh goodies.
U-Pick times are 10:30 AM to 5 on Saturdays, and 1 PM to 4 PM on Sundays. Fridays are reserved for group events. Contact 706-635-5898 for more information and to schedule group events.
Red Apple Barn
3379 Tails Creek Rd.
Ellijay, GA