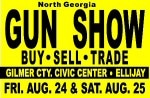 The North Georgia Gun Show is coming to Ellijay, Georgia on August 24 – 25, 2012. Bring your unloaded guns to buy, sell, swap, or trade! There will be lots of vendors there with guns, ammo, knives, accessories, hunting products, and so much more! Make sure to have all your weapons checked at the door.
This event is happening at the Gilmer County Civic Center on Friday, August 24 from 3 PM to 8 PM and Saturday, August 25 from 9 AM to 5 PM. Admission is $5 per person and, with a stamp, is good for both days. This is a safe, clean environment to bring the whole family and children 6 and under are admitted free. Door prizes will be chosen every hour. For more information, call 828-557-1543.
Gilmer County Civic Center
1561 S. Main St.
Ellijay, GA   * UPDATE* The folks from Big Rack Deer Scents will be on site with incredibly low prices on their
deer scent products
. Don't miss this chance to buy deer attractants at blowout prices.