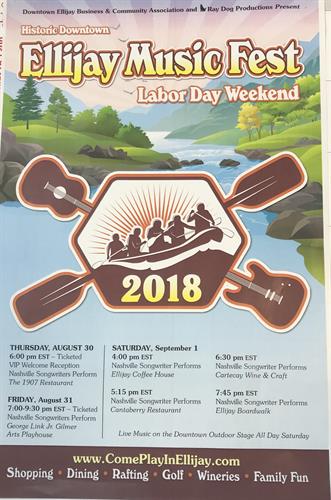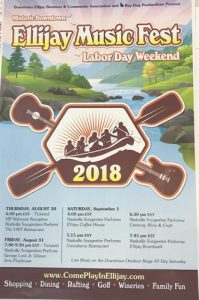 Come join us for the inaugural Ellijay Music Fest this Labor Day weekend! The event kicks off on Thursday August 31 at 6pm at 1907 Restaurant. Singer-songwriters Tim James, Danny Myrick, Bobby Tomberlin and Mark Narmore are the great minds behind countless hits by famous artists Blake Shelton, Tim McGraw, Jason Aldean, Diamond Rio, Alabama, Faith Hill and more! 
Thursday August 30: VIP Reception and performances at The 1907 Restaurant in Downtown Ellijay

 

Friday August 31: An evening with Nashville Songwriters at the Gilmer Arts Playhouse

 

Saturday September 1: Enjoy live music throughout downtown Ellijay including individual performances at Ellijay Coffee House, Cantaberry Restaurant, Cartecay Wine & Craft and Ellijay Boardwalk.

 
Tickets can be purchased ahead of time or at the event.
TICKETS: https://www.eventbrite.com/e/ellijay-music-fest-vip-reception-and-performances-at-the-1907-restaurant-tickets-47885768623