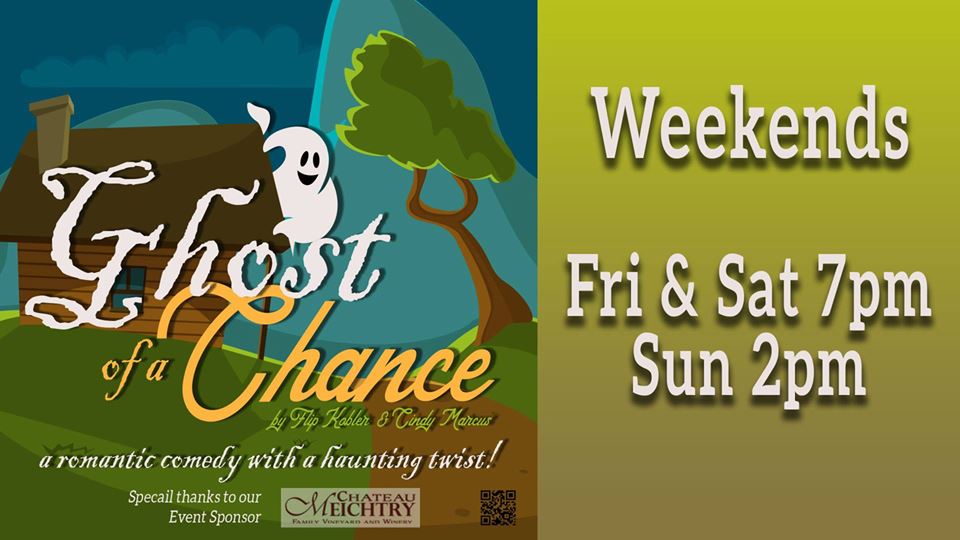 "Ghost of a Chance" has been described as a "touching, funny story of love and redemption."
Directed by Elizabeth Vititoe and featuring the local talents of Julie Burton, Nancy Sauls, Steve Franzen, Steve Burton, Charlie Poss and Katie Daniels, "Ghost of a Chance" is bound to entertain.
"Some plays speak to the mind, some to the heart and some hammer the funny bone. Few manage to hit all three in the same evening. "Ghost of a Chance" is that rare theater experience." – Cleburne Times-Review

Play Overview: Bethany is bright, strong, independent, beautiful and has zero self esteem. She has brought her fiancée, Floyd, and his mother, Verna, up to her cabin in the woods, the site of the hunting accident that killed Chance, her first husband. Much to her consternation, he or rather, his ghost is still there. Only Bethany can see him, so Floyd and Verna think she is crazy as she frantically tries to get rid of, well, it seems to them nobody. Chance, meanwhile, is doing everything he can to prevent Bethany from marrying Floyd. Bethany even brings in a delightfully kooky psychic to help deal with the ghost of Chance.

Spoiler alert: this isn't a Halloween-themed play even though ghost is in the title. But let's be honest, you can make everything Halloween-related if you put your mind to it!

The husband and wife team of Flip Kolber and Cindy Marcus – known for extending beloved Disney storylines including "Beauty & The Beast," "The Lion King," "Pocahontas" and "The Hunchback of Notre Dame" – wrote "Ghost of a Chance." Their ability to weave humor, drama and passion into storytelling, coupled with the talent at Gilmer Arts Playhouse will make for a scary good evening.
With only three weekends, don't miss your chance to see this play!
George Link, Jr. Gilmer Arts Playhouse is located at 135 Dalton Street in Downtown Ellijay.
Tickets range from $15 – $22 and can be purchased HERE or at the box office.
Shows are 7 p.m. on Friday and Saturday and 2 p.m. on Sunday.
#communitytheatre #romaticcomedy #datenight #applefestfun #hilarious #ghostofachance #localarts #theatre #plays