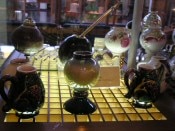 If you have quality art or home decor you no longer have a need for and would like to sell, bring it by Gilmer Arts and Heritage in Ellijay, Georgia to be included in their Decorative Art Consignment Sale beginning on September 30, 2011. Members of GAHA will receive 75% of the selling price, non-members will receive 65%.
For those who have merchandise, please label, price, and bring your items to Gilmer Arts and Heritage between 9 AM and 11 AM or 1 PM and 4 PM, September 22, 23, 26, 27. The sale will begin on September 30, 2011 and run through October 25, 2011. For more information on this event, call 706-635-5605.
Gilmer Arts and Heritage
207 Dalton St.
Ellijay, GA