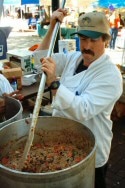 If you think you make the best chili or salsa…put it to the test at the Gilmer County Chamber Chili Challenge 2010. The contest is heating up on Main Street in Ellijay on November 13, 2010 from 12 PM to 5 PM. Booth/Tent set up begins at 9 AM.  Food prep time is from 11 AM to 12 Noon. Judging begins at 4 PM and awards will be given at 5:30. You don't have to compete to come out and have a taste of some good chili.
The awards that will be given are as follows:
Best booth design/Team spirit
1st, 2nd, 3rd place and People's Choice for Chili with beans and without beans
1st, 2nd, and 3rd place for Salsa
The Team Registration Fee is $50 per category.
Contact the Gilmer County Chamber of Commerce at 706-635-7400 to get more details and information and to register to compete.