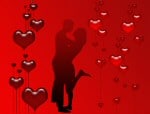 Celebrate Valentine's Day with an evening of dinner and dancing at Kharisma Live's 4th Annual Valentine's Day Dinner and Dance at the American Legion Dance Hall in Ellijay, Georgia. This great evening of entertainment will take place on February 16, 2013 from 7 PM to 11 PM.
Admission to the dance is $15 per person, dinner is an additional $12 per person and includes your choice of steak, chicken, or vegetarian selections. A cash bar will be available. Reservations are required so make yours today! For more information and to make reservations, call 706-698-1275.
American Legion Dance Hall
279 Legion Rd.
Ellijay, GA