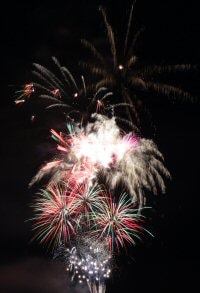 Join in the Star Spangled Beach Party at the annual 4th of July celebration in downtown Ellijay, Georgia on July 4, 2015. The whole day will be a party starting at 11 AM with local vendors lined up along River Street. Enjoy the beach with beach games and more. Live music will begin at 4 PM with Downtown Roy.
The annual parade will start from Sailors Drive at 6 PM, go around the square and end at Ellijay Elementary on McCutcheon Street. The military, veterans, and military families will be highlighted this year and to show appreciation for their service, they are asked to participate as Grand Marshalls for the parade. Any military, veteran, or family member who would like to march in the parade are invited to bring a photo to carry in the parade. Staging for the parade will begin at 4 PM on Sailors Drive. Grand Marshall participants are to meet in front of the Pepsi building. Judging for the floats will take place from 5 PM to 5:45 PM.
Festivities will continue after the parade with fireworks beginning at dusk. Admission is free so come on down to downtown Ellijay and have a good time!