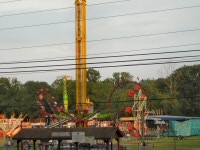 Summertime in Ellijay, Georgia means the Gilmer County Fair is coming soon. The 2012 fair will be here at the Ellijay Lions Club from August 7 – 11. There are 3 different divisions for exhibits – Elementary, Youth, and Adult with categories in Agriculture, Crafts, Food, Canning, Baking, Sewing, Needlework, Art, Photography, and Quilting and 10 different categories for the Elementary division. New this year is a Flowers category for all age groups.The agriculture shows will be held on Tuesday, Wednesday, and Thursday, August 7, 8, and 9 and will feature poultry, sheep, lambs, and goats. Don't miss visiting the back building for the local booths and petting the animals in the petting zoo.
The fair will be open 6 PM to 11 PM on Tuesday through Thursday and 6 PM to 12 PM on Friday and Saturday. Admission is $3 for adults, $2 for students, and children under 6 are Free. You can purchase an armband for $20 that is good for all of the rides. Bring in an old pair of glasses, a cell phone or hearing aid and get $1 off admission (limit 1 per person).
The Ellijay Lions Club
1729 S. Main St.
Ellijay, GA
706-635-5901